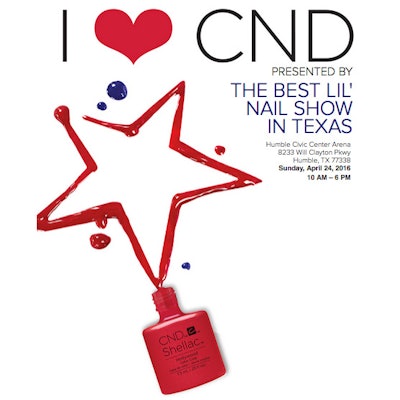 CND (Creative Nail Design, Inc.) and Houston-based distributor, Nationwide Nail Supply, will hold I Heart CND, presented by Best Lil' Nail Show in Texas Sunday, April 24. Taking place at the Humble Civic Center Arena in the CND booth, the event is open to all salon owners and Nail Professionals and will unfold as a day of shopping, education and fun.
I Heart CND, presented by Best Lil' Nail Show in Texas, attendees will have the opportunity to meet CND Co-founder & Style Director, Jan Arnold, and two guests of honor: Vietnamese-American actress, philanthropist and Lifetime Achievement Awards recipient, Kieu-Chinh, and nail artist Winnie Huang. The stars of the day will be available for autograph signings and photo opportunities with fans. Additionally, Winnie will be demonstrating some of her favorite nail styles and products throughout the day.
CND and Nationwide Nail Supply will be offering a number of exclusive promotions to attendees, including a 'Cut the Cord' campaign designed to incentivize Nail Pros to turn in their old professional service lamp in exchange for a complimentary CND LED Lamp (one per customer, while supplies last).
Professionals interested in attending I Heart CND should reach out to Nationwide Nail Supply at 713-522-2080. For full details about the event, please visitcnd.com/education/i-heart-cnd. To learn more about the Best Lil' Nail Show in Texas, a three-day industry event consisting of 28 education workshops and a tradeshow, visit: bestnailshowtx.com/why-attend-the-best-lil-nail-show/.
WHEN:
Sunday, April 24 2016; 10:00am – 6:00pm
WHERE:
Humble Civic Center Arena, 8233 Will Clayton Parkway, Humble, TX 77338
Image: CND.com