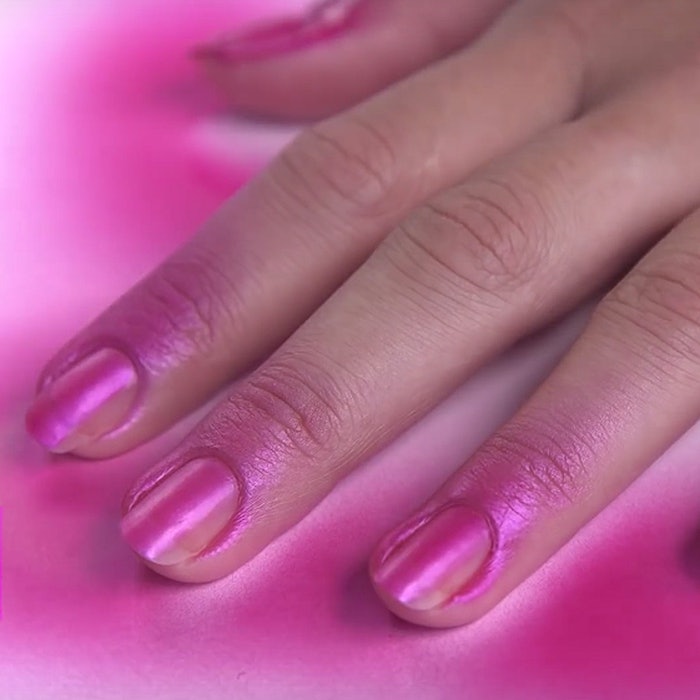 Looking to add something to your retail counter that your clients don't already have? Starting April 2016, China Glaze is launching their own Coloured Nail Spray. Sure, it's no replacement for a traditional manicure, but it's a cute and easy way to paint nails ridiculously fast – and a perfect impulse buy or gift item. You paint a special base coat on nails, spray them, then wash – the spray comes off skin and cuticles but sticks to the nails. Right now, China Glaze is offering their Coloured Nail Spray in four shades: Magenta Shimmer, Purple Shimmer, Platinum Silver, and Bright Blue.
Here's how it works:
STICK
: Apply China Glaze Strong Adhesion Base Coat on a clean nail and let dry completely. Be careful to avoid the cuticles – where base coat sticks, color stays!
SPRAY: Spray two light layers of China Glaze Coloured Nail Spray on all nails. Allow to dry completely between coats.
SEAL: Apply China Glaze Fast Forward Top Coat and allow to dry. Again, be careful to avoid the cuticles – this step seals on the Coloured Nail Spray.
SUDS: Wash hands with soap and water. Coloured Nail Spray stays on your nails, not on your hands!
Images and video: China Glaze