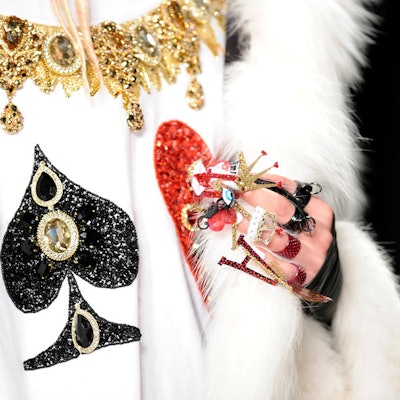 CND showcased 22 mesmerizing nail designs tonight at The Blonds Fall/Winter 2016 Show at MILK Studios in New York. Inspired by 1950s Hollywood glamour with elements of the unusual world of Alice in Wonderland, the clothing and nails might be described as "a trip down the rabbit hole." This long-standing fashion partnership once again produced magic on the runway, transporting the audience to a whimsical realm where things are not quite what they seem.
"At CND, we choose to collaborate with designers who share our passion for breaking the mold, and The Blonds continue to be true artistic partners season after season," said CND Co-founder and Style Director Jan Arnold. "CND's Winter 2016 trend story evokes glitter glam, dazzling jewel tones and red carpet couture, and this was the perfect opportunity to tell that story with a trippy twist!"
To complete the runway collection, the unrivaled artists of the CND Design Lab Team created a distinct nail style for every look. The stiletto-shaped nails and their 3-D embellishments were hand-sculpted with RETENTION+ Liquid & Powder and BRISA Gel, then adorned with SHELLAC Brand 14+ Day Nail Color, VINYLUX Weekly Polish and CND Additives. The color palette featured a dynamic range of opalescent pinks, pearlescent brights and metallic blues, anchored in black patent and fishnet. One model donned a vibrant bouquet laced with thorns, while another showcased "Eat me," "Drink me" and "Lick me" cookies adhered with edible glue. Nails were ornamented with unconventional materials like ribbons, feathers, foils, sequins, metal, faux fur and smoke – even crystals and stones created entirely out of nail products. A result of over 900 combined hours of production, these over-the-top designs were the perfect accessory for The Blonds' dramatic collection.
"Working with the CND team is both effortless and completely inspiring. They understand our art form and their nail designs are a true extension of our collection," said The Blonds Creative Director David Blond. "The nails are such an important part of the overall story. It's so exciting to see what absolute MAGIC CND comes up with each season," added Designer Phillipe Blond.
"Year after year, The Blonds continue to amaze us with their ingenuity and unbridled imagination," said CND Education Manager and Artistic Director Kristina Estabrooks. "We are grateful for creative partners like David and Phillipe, who allow us to spend less time on mass production and more time on masterpieces."
For visuals, how-tos and behind-the-scenes coverage of CND's Fashion Week Fall/Winter 2016 designer collaborations and nail designs, please visit the CND Fashion Week Digital Headquarters at
cnd.com/fwdigitalhq
.
Images: CND