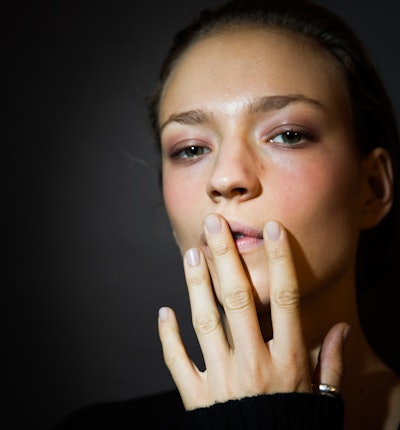 The Narciso Rodriguez Spring/Summer 2016 presentation at NYFW was designed for modern city girl who's equal parts powerful and carefree. Hair was slicked backed as if it was wet with the sweat of dancing all night; makeup was light and natural, as if it had come off over the course of the day. Shares lead manicurist Deborah Lippmann, "I translated this elegant chaos by doing the reverse of what this girl normally does…rather than layer a shimmer over a nude, we modernized it by placing a nude over a holographic shimmer lacquer – My Dirty Little Secret – a brand new [Deborah Lippmann] shade for Spring 2016."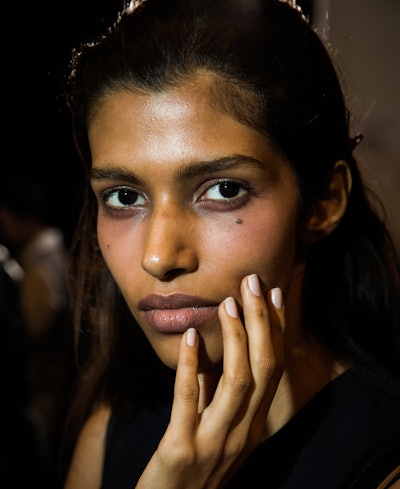 Here's how to recreate the look:
Step 1: Lippmann contoured natural nails into a short, rounded shape using her Smooth Operator 4-Way Nail Buffer.
Step 2: To prep the nail plate, she exfoliated then hydrated the cuticle using her signature Cuticle Remover and Cuticle Oil. She then cleansed the nails with 2-Second Nail Primer prior to base coat application.
Step 3: For the base, Lippmann applied a coat of the new Gel Lab Pro Base Coat.
Step 4: Lippmann began nail color application with one coat of the new for Spring 2016 Dirty Little Secret Gel Lab Pro nail lacquer, a sheer holographic greige shimmer, and waited 2 minutes for it to dry.
Step 5: Lippmann then layered atop one coat of Like Dreamers Do, a pale bisque, to create a sheer crème overlay.
Step 6: After waiting 2 minutes for the last layer of color to dry, one coat of Flat Top top coat was applied to seal the nails and achieve a completely matte finish.
Step 7: Hands and cuticles were massaged with Rich Girl SPF 25 Hand Cream and The Cure nourishing cuticle repair cream, respectively, for complete hydration.
For the Toes:
Lippmann completed the above grooming process before outfitting the toes with Gel Lab Pro Base Coat and one coat each of Dirty Little Secret and Like Dreamers Do before sealing with Flat Top mattifying top coat.
[Image: Mark Schafer]