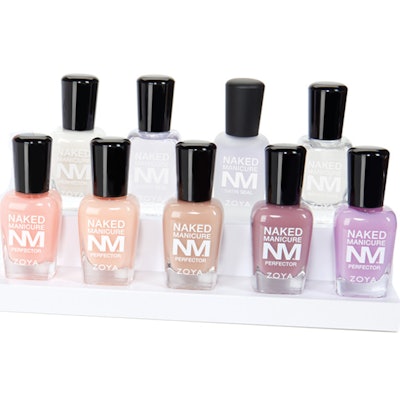 To meet the needs of clients who have discolored nails from skipping the base coat or damaged nails from picking off gels, you can now offer the Zoya Naked Manicure service!
The Zoya Naked Manicure system comes with five very sheer tinted lacquers that work like foundation or concealer for nails. Rather than cover up nails like a nude polish, these Perfectors keep nails looking completely natural – just a warmer, smoother, more even version of natural. You can select one or even layer two to match your clients' needs. Here's what each tint does:
+ Pink Perfector: brightens
+ Buff Perfector: warms
+ Lavender Perfector: cools
+ Mauve Perfector: deepens
+ Nude Perfector: softens
To further perfect your client's nude mani, the full set comes with these:
+ Tip Perfecter: dabbed on the free edge, this sheer white mimics a natural free edge
+ Naked Base: refines the nail's surface before application of your Naked Manicure, strengthens and hydrates nail
+ Satin Seal: provides a natural nail, semi-matte finish
+ Glossy Seal: adds a classic, shiny finish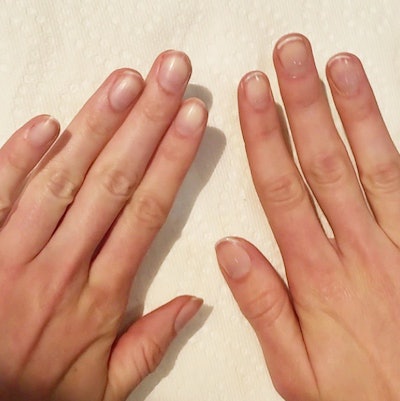 Before and after the Zoya Naked Manicure on NAILPRO's Web Editor, Sarah! Left hand is completely natural nails, right hand has been illuminated and warmed with Pink and Buff Perfectors. Subtle but looks healthier and shinier!
The Satin Seal, as it's not overly glossy, can be used on male clients. The Naked Manicure is also great to use before doing negative space nail art to ensure the part of the natural nail that peeks through is healthy and even in color!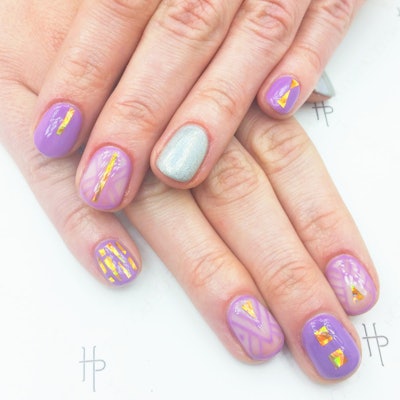 The Naked Manicure lays the perfect foundation for negative space nail art.
[Images: Zoya]