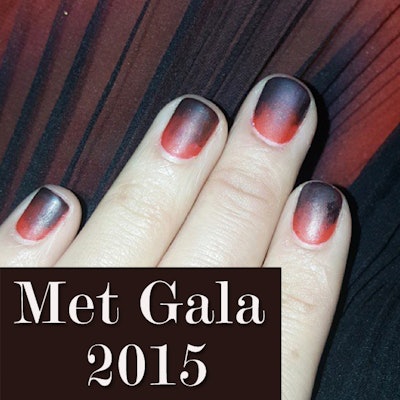 The Met Gala is one of fashion's biggest nights out. Instead of red carpet fashion conforming to plain black gowns and nude nails, stars go above and beyond to match their ensemble to a given theme. This year's motif was "China: Through the Looking Glass," which brought metallics, patterns, and Asian influences to the scene. Here's a glimpse at some of the nails and dresses from the night:
Elizabeth Banks was one of the few that opted for bright color on the red carpet with a bright sky blue cutout gown. Her nails had a warm smoky hue on them courtesy of JINsoon. To get the look, use JINsoon Power Coat as a base, add two layers of JINsoon Auspicious, and then finish it off with JINsoon Top Gloss.
Sophie Turner had the chance to be pampered by manicurist Gina Edwards with Burberry Nude Pink and English Rose.
Dakota Johnson had one of our favorite dresses from the night! To complete the Eastern mod style, Deborah Lippmann herself squared off the nail slightly and then polished them with black lacquer.
Lorde wore a moody midnight gown with ornate detailing. Celeb nail tech Mar Y Sol gave the New Zealand singer with a full manicure before the show, and even prepped the nails with OPI Chip Skip, to guarantee chip-free color all night long. After applying one coat of OPI Nail Envy Nail Strengthener (but before RapiDry Top Coat), Mar Y Sol layered on OPI Dark Side of the Mood, an edgy dark gray that complemented the jewel toned dress.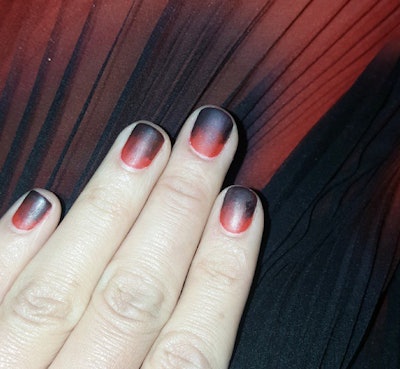 We were excited that Olivia Munn gave us an up close at her manicure! Sally Hansen Nail Ambassador Tracylee gave the actress an ombre nail using Complete Salon Manicure in Red My Lips with a fade to black using Hard As Nails Xtreme Wear in Black Out. The gradient got a sophisticated boost with a finishing layer of Big Matte Top Coat. "I love the element of theatricality the Gala calls for," explains Tracylee. "It gives me an opportunity to create statement nails that bring Chinese aesthetics to the next level."
Kendell Jenner's dress looked like green chainmail, but her manicure was a little more subdue. The Estée Lauder spokesmodel wore Estée Lauder Pure Color Nail Lacquer in Negligée.
Rihanna's massive train was the center of attention at this year's show, and we're happy to report that she didn't neglect the nails! The celeb went to one of Hollywood's best-known manicurists, Kimmie Kyees. Kyees began with Red Carpet Manicure Gel Polish in My Favorite Designer, a frosty pink hue and layered large pieces of gold glitter from RCM's Gel Polish in WOW beginning at the cuticle and fading towards the free edge. To make it even more memorable, Kyees sprinkled each nail with holographic pink and gold glitter from RCM's Glitz and Glitter Kits. You can get the same at-home gel kit she used from Ulta – see more on the Red Carpet Manicure Pro Kit in our mash up of at-home gel systems.
Chrissy Teigen completed her Chinese-inspired outfit with a flower behind her ear and matching nails. Manicurist Chi executed the look under the direction of Dermelect Color Curator Elle using a dark burgundy polish and Dermelect's Revital-Oil to keep the cuticles healthy. "I never leave the house without my Dermelect Revital-Oil cuticle oil and same goes for my clients" says Elle. Lucky for her, Elle still had her bottle of Revital-Oil on her when Jennifer Lopez asked for cuticle oil later that night.
Anne Hathaway had a unique hood dress, which she wanted to make the center of attention. Celeb manicurist Alicia Torello selected Revlon ColorStay Gel Envy in Checkmate to create this swanky nude nail.
The same Revlon nude was used on Reese Witherspoon!
Katie Holmes unveiled a bold new haircut on the red carpet, so she told manicurist Elle Gerstein that she need to keep everything else clean and modern. Instead of going with a been-there, done-that nude nail, Holmes chose a chic grey. Elle used Red Carpet Manicure Almost Famous.   Cover image: @oliviamunn
Katy Perry had the gaudiest manicure of the night – each nail was pierced and had a gold letter dangling from it. They spelled out "Moschino," the maker of her dress for the night.