Katy Perry
has proclaimed that her favorite crystals are rose quartz and amethyst. No longer just for new age enthusiasts, healing crystals are even starting to be incorporated into a variety of nail services designed to appeal to spiritually inclined (and curious) clients looking to soothe and treat the body and the mind, all while beautifying their nails.
At Chicago-based Allyu, for example, the signature Indonesian Wild Ginger & Coconut manicure and pedicure includes an energizing heated quartz, jasper and tourmaline crystal massage. At Salt Water Spa in Savannah, Georgia, nail technicians apply flecks of crystals like black tourmaline, amethyst and red jasper directly onto the nails during the Vibe Crystal Nails gel manicure and pedicure service for "beautiful nails that are sure to attract positive vibes," according to the spa's Instagram page. And at Côte's Los Angeles location, the new Healing Crystal Pedicure service, which features a rose quartz and essential oil soak, as well as a crystal massage using labradorite and blue calcite, has been so well received that the owners are considering offering it at their New York nail salon as well. "Customers have been over the moon enjoying this treatment," says Côte cofounder Leah Yari. "We've had bridal showers based on this service because it's such an amazing experience."
RELATED: Budding Blooms Inspire Reader-submitted Floral Nail Art
Despite the recent boom, however, crystal healing is not new. The practice of using crystals to cure ailments and protect against disease actually dates back about 6,000 years to the Sumerians of Mesopotamia, and was later used in ancient Greece and Egypt, and in religions like Buddhism and Hinduism. Proponents believe that crystals can focus energy in the body, and that each type of crystal has unique healing properties.
"The basic laws of physics teach us that everything in the universe is made of energy, vibrating at different frequencies," explains certified crystal healer and celebrity manicurist Mazz Hanna. "Crystals vibrate at a very high frequency, and humans—for a variety of different reasons—vibrate at a much lower one. The way that energy works is that it naturally wants to entrain with whatever energy is vibrating at a higher frequency. When we bring crystals into our space, it elevates our frequency, allowing us to reap many different benefits, specifically to our health and well-being."
RELATED: Tips to Taking Insta-worthy Nail Art Photos
Hanna, a former creative director in advertising, left her career to follow her true passions, crystals and nails. Her trademarked Crystal Healing Manicure is now in high demand with her A-list clientele, including Julia Roberts, Emma Roberts and Selma Blair. "My mission from the very beginning was to make crystal healing practical, which is what led me to create the Crystal Healing Manicure," says Hanna. The service begins with a chakra analysis, which Hanna consults before creating custom-blended tinctures, sprays and oils using various essential oils and crystals catered to her clients' individual energetic needs. "From there, I sage the space, create a crystal grid, give a CBD- and crystal-infused massage to the arms and hands, and then get to work putting crystals on their nails," she says. "Having crystals on your nails is a practical way to reap their energetic benefits."
To complement her nail services, Hanna recently launched a luxury line of crystal-infused skincare products. "As a certified crystal healer, it was very important to me to use crystals that help with whatever issue our product is trying to resolve," says Hanna. "For example, our cuticle oil has an amethyst roller ball; amethyst is the stone to call on if you are trying to break bad habits like biting and picking. All of our products are clean and natural, using organic ingredients whenever and wherever possible."
Côte has also launched a crystal healing nail care product for retail, the Treatment Traveler Set, which consists of six of the salon's popular treatments—including Resurface & Repair Base Coat and Protecting Base & Top Coat—each infused with crystals. For salon owners who aren't ready to introduce a healing crystal nail service, retail certainly provides an approachable means to tap into the trend. Namaste in Studio City, California, stocks crystal water bottles in its retail area, while other salons offer a curated selection of crystal jewelry and books about the practice of crystal healing.
While crystal healing nail services may not be the right fit for every salon or client, their emerging presence is indicative of the increasing number of nail salons gravitating toward a wellness approach. "I think that wellness is going through a transition that extends beyond physical self-care into the mental, emotional and spiritual realms," says Hanna. "In the busy world we live in, it's important to integrate this new type of wellness into our routines and rituals. Pairing crystal healing with nails—a ritual most women prioritize on a weekly basis—makes total sense."
Crystal Clear
Feeling confused about crystals? Get schooled in the healing properties of some of the most common stones.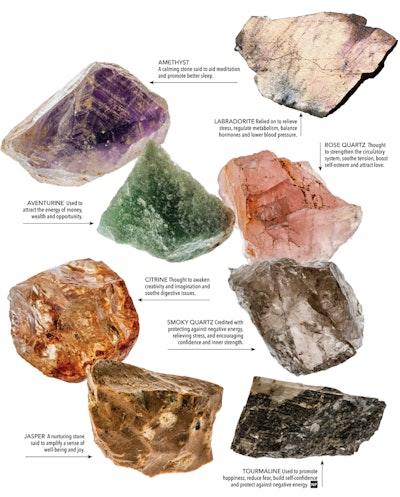 –by Lotus Abrams
This story first appeared in the March issue of Nailpro magazine. To receive the magazine, click here to subscribe.
[Images: Courtesy of Emily Men; Adriana Gutierrez; Getty Images]
Whether or not you've personally experienced the healing power of crystals, one thing is clear: Their growing mainstream popularity is undeniable. As evidenced by the recent proliferation of crystal-filled water bottles and crystal facial rollers— and their endorsements from high-profile fans—these healing stones are being lauded as the new must-have accessory. Singer Adele has been known to carry crystals during her performances; Australian model Miranda Kerr says her clear quartz crystal wand studded with rose quartz is a treasured possession; and pop star