The path to enlightenment starts…. at the nail salon.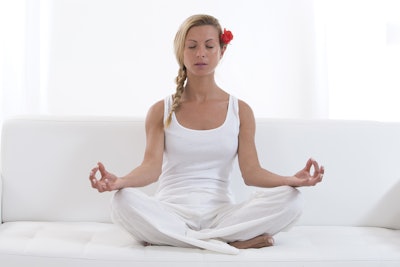 Meditation has been practiced for thousands of years and has been shown to provide a number of health benefits, from stress reduction to better sleep to migraine relief. Now, the practice is beginning to surface in a new form—through guided meditation—in a seemingly unexpected venue: the nail salon. Sundays, a nail salon with three locations in Manhattan, introduced a Meditation + Manicure service when it opened in early 2017 that utilizes the Inscape audio-guided meditation app to transport guests to a state of tranquility during a treatment-focused manicure. "It's the perfect time to do meditation," says Amy Ling Lin, founder and CEO of Sundays, which offers nail services with nontoxic, cruelty-free, vegan products and minimalist nail art in a serene, Nordic-inspired environment. "You can't move your hands anyway and your feet are grounded on the floor. Why not use this time to fully relax and reconnect with yourself?" Sundays Meditation + Manicure service begins with a short consultation, followed by nail and cuticle care. Guests are then asked to choose one of three mood-enhancing essential oils, as well as a meditation program (for focus or stress relief, for example), before donning headphones for the 10- to 15-minute hand and arm massage accompanied by a guided meditation session.

Meditation is also a key focus at Namaste Nail Sanctuary, a new franchise founded by Mecca and Michael Elliot. Guests are invited to use the Deepak Chopra Dream Master guided meditation system during any service, and members can also experience the exclusive relaxation and meditation space, the Cocoon Room, for continued Dream Master- or self-guided meditation. Mecca, a Deepak Chopra International Meditation teacher and former hairdresser, and Michael, the founder of Hammer & Nails Grooming Shop for Guys, with a dozen locations across the country, created the experience to help guests unplug, unwind, relax and rejuvenate.
Related: Savvy Salon: Namaste Nail Sanctuary
"The Dream Master allows people to relax and experience guided meditation, as well as deeper levels of relaxation, while they get a quality service experience," says Lia Smith, Namaste vice president of training and franchise support. The Dream Master uses headphones to help users reach a number of beneficial states of consciousness, with more than 85 Chopra-narrated programs to choose from, ranging from relaxing to energizing. Guests have the option of wearing special glasses that transmit light pulses at specified frequencies for a deeper experience. "Behind your closed eyelids, you'll see a complex kaleidoscope of color, multidimensional layers of fractals and a variety of dreamlike imagery," Smith explains.
So, what exactly is guided meditation? "In guided meditation, somebody with a soothing voice—Deepak in the case of the Dream Master—speaks slowly, and you synchronize with their vibe and they take you through the guided meditation," explains David Mager, who created the Dream Master program with Chopra and Harvard University Neurology professor Rudolph Tanzi, MD, PhD. Meditation slows the brainwaves down from a state of activity to focused concentration, deep relaxation or even beyond to lucid dreaming—states that Mager and his colleagues are able to measure using electroencephalography, or EEG. "To get good at traditional meditation takes about 10 years, [but with guided meditation] this happens the first time you do it," says Mager.
Indeed, Lin says that many of Sundays' clients who try the Meditation + Manicure service are new to meditation. "We actually have a lot of first-time meditators who've said it was much easier than they thought it would be," she says. And as Lin sees it, meditation and nail care are a natural fit. "When you start thinking about nail care as self-care, then it has to be about both mind and body," she says. "It's a great way to check in with yourself. I think we'll definitely see more salons doing this as wellness-focused salons keep growing."
[Images: Courtesy of Getty Images, Sundays, Deepak Chopra Dream Master]
This article was first published in the September 2018 issue of NAILPRO