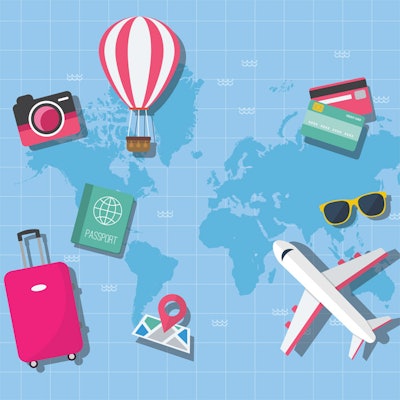 Gain valuable career experience and lasting memories as a traveling nail tech.
Celebrity nail artist, independent educator and world traveler Julie Kandalec is happiest when she's exploring new places. She's often on the road 10 or more days a month teaching classes, speaking at conferences, taking trips for pleasure and doing editorial work. (She recently shot a Valentino campaign in Rome followed by an Elle cover in Rio de Janeiro just a few months later!) For many techs, this may sound crazy, but not to Kandalec. "You have to be very flexible—in every sense of the word," she says. "Being on the road can be exhausting, but the lifelong experiences are worth it."
While not all nail tech travel gigs pay for your time in addition to covering travel expenses, most pay off in other ways, including professional exposure, networking opportunities, new client prospects and—most importantly for the wanderlust tech—once-in-a-lifetime experiences in exciting, new places. Longing to see the world? Here are five ways you can start your journey as a traveling nail tech.
Take Your Talents to Sea
Visiting exotic locations on your days off may seem like a dream, but if your home base is a cruise ship, your downtime options suddenly get a lot more exciting. "Working on a cruise ship is a wonderful opportunity for techs who don't mind being away from home, enjoy meeting new people and are open to new experiences," says Roxanne Valinoti, CND education manager. Kandalec worked on a cruise ship for eight months and says that working at sea can be fun and rewarding, especially for pros without a spouse, kids or salon job.
Most cruise ship-based spas are separately owned and managed from cruise lines. Contract terms vary, but typically techs are required to sign up for a four- to eight-month commitment. In addition to making sure you have the required qualifications, such as a current license, a minimum number of years of experience and a valid passport, expect to invest some of your own money before you set sail. For instance, you may be required to pay for special sales, promotion and technique training, as well as uniform fees and travel to your port of departure. (Travel back home is usually provided after you complete your contract.) Expenses while on board, however, are limited: typically, tips for your cabin steward (about $10/week), laundry, wireless internet and bar bills.
RELATED: Daily Inspo – Editorial Nail Artist Kait Mosh
Income earning potential varies depending on a number of factors, such as tips, sales commission, and the ship's age, size and itinerary. Techs often earn more at sea than they would working on land, making the long hours and fast tempo of a ship spa worth the effort. Free meals and accommodations, interesting ports of call, and the opportunity to make new friends and lifelong memories only sweeten the deal.
Educate for a Brand
"The nail industry is constantly growing, so highly qualified specialists are always needed," says Anastasiia Morozova, international educator for LeChat. Brand educators are responsible for sharing product benefits and teaching proper product usage to distributors, salon owners and other nail professionals—all of which can build techs' credibility. "If you're passionate about education, then working for a professional manufacturer is one of the most rewarding and easiest ways to travel locally or globally," says Valinoti. Most brands fund and arrange travel to demos and classes, and you may even have the opportunity to work at exciting exhibitions and shows, like New York Fashion Week or the Victoria's Secret Fashion Show.
One thing to keep in mind for those interested in following this career path is that educators are usually independent contractors rather than salaried employees, so don't expect retirement benefits, vacation days and health insurance. "However, it does allow full control over scheduling and managing other areas of your business, which is great for educators who still want to maintain salon clientele," says Valinoti. Another big perk: free products!
If you're interested in pursuing a career opportunity as a brand educator, reach out to a company's director of education to inquire. Qualifications vary, but an instructor's license is often required. Before signing on, make sure you understand the company's policy on what travel expenses are covered, such as transportation to the airport, baggage fees and per diem, says Valinoti. Brand relationships are often exclusive, meaning you can only represent one brand at a time. For this reason, Morozova recommends contacting your favorite manufacturer first.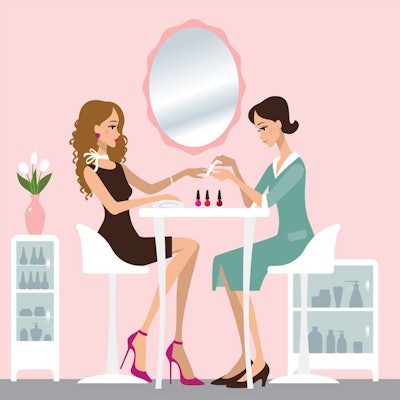 Become an Artist-in-Residence
A term usually associated with the art world, an artist-in-residence is typically an artist recruited by a museum to work in-house, producing art and promoting the institution for a defined period of time. Artist-in-residency programs are attractive because the organization gets exposure to a new audience, while artists gain access to new resources and inspiration. Rita de Alencar Pinto, an experienced independent art curator, applied this concept to the nail world when she founded Vanity Projects in New York in 2008. Since opening, Vanity Projects has successfully hosted more than 100 nail artists-in-residence from all over the world at the New York and Miami locations. "We offer the top international nail artists the chance to engage and experience the exchange of techniques and ideas," says Pinto. "Artists get a lot of visibility and opportunities to expand in their own market, as well as a fast-paced environment that's guaranteed to improve timing skills."
RELATED: Daily Inspo – Manicurist Stephanie Stone
Visiting techs at Vanity Projects are in residence anywhere from 10 days to three months, depending on their availability. Vanity Projects provides all supplies, sets pricing, handles appointment bookings and offers housing options in Miami. Guest nail artists are responsible for supplying their own brushes, utensils and e-files, as well as covering their own travel costs and lodging in New York. Promotion is a joint effort between the guest artist and the salon.
Pinto encourages nail artists who are interested in becoming a guest artist at Vanity Projects to reach out, though they're expected to have excellent technical skills and Japanese gel proficiency. "Our technical standards are very high, but the opportunity is great because it opens you up to a new audience," she says.
Get Sponsored to Compete
Competing has a lot of benefits. It pushes you out of your comfort zone (and often out of town!), improves your skills and helps you gain name recognition in the industry. "It does take a lot of money to make these events happen though," admits John Hauk, winner of more than 350 nail competition awards and two-time NAILPRO Team Cup champion. In addition to entry fees, entrants must cover transportation and hotel costs, plus food and other incidental expenses over the competition weekend.
If you're a successful competitor, however, a brand may be interested in sponsoring you for an event, which means that in exchange for covering some or all of your expenses, you use the brand's products during the competition. And if you're fortunate enough to bring home the trophy, both you and the brand are winners. Hauk says he was motivated to make his mark as a competitor as soon as he got his nail tech license. "I really had a fire under me," he says. "I immediately built a plan to compete, and within two years, I was winning."
So, how does a sponsorship work? "Every brand is different," says Hauk. He's worked for smaller brands that paid for airfare, hotel and entry fees and also took the team out for company dinners each evening. In some cases, Hauk was expected to work in the brand's booth when not competing, but at the end
of the show, he was frequently offered unsold products. Bigger brands may work out a deal with techs to participate in multiple competitions. "I would commit to represent the brand at a certain number of competitions and estimate my related expenses," says Hauk. Sometimes the brand would pay him for a year of events upfront, and other times it was on an event-by-event basis. Even though he wasn't paid for the actual time he spent competing, he was able to reap the benefits of competition and travel to a variety of locales without having to pay any out-of-pocket costs—a real perk that opened doors to other opportunities.
Take a Working Vacation
Getting paid to work while you're on a vacation isn't as off the wall an idea as you might think. While taking a few nail appointments during your trip isn't likely to cover all of your travel expenses, it can certainly help offset your costs. So, how can you find a temporary space to work in your destination of choice? Increasingly, salon suites and booth rental salons are catering to mobile techs. For example, Salon Republic in Los Angeles offers a designated area called The Lab, where beauty professionals can book a station for a daily rate, which includes complimentary towel service, Wi-Fi and lockable storage.
Another option is to use the ShearShare app, developed by McKinney, Texas-based salon owners Tye and Courtney Caldwell, which matches techs looking for temporary workspace with host salons that have gone through a vetting process before being authorized. "You no longer have to spend time searching the internet or cold-calling salons, and we help negotiate special day rates that are only found on the ShearShare app," says Tye. With listings in 444 cities and 11 countries, there's a good chance that ShearShare is in a city you'd like to visit.
In this scenario, booking clients is the greatest challenge. Fortunately, if you're staying in a vacation town, there are probably plenty of fellow travelers in need of your services who don't already have a go-to tech, and if you're staying at a hotel, you can even let the concierge know that they can recommend you for services. Another tip: Decide ahead of time which services you'll offer while on the road (pedis and polish changes are a safe bet), keeping in mind you'll likely need to bring your own supplies.
And finally, a piece of advice that rings true for any traveling tech: "Always update your social media to promote your next destination," says Morozova. Before you know it, you'll gain clients in every port of call who are eager to book upon your arrival.
–by Leslie Henry
This story first appeared in the July issue of Nailpro magazine. To receive the magazine, click here to subscribe.
[Images: Getty Images]