Courtesy of Glitterbels
Glitterbels was launched in 2018 by Annabel & Elliott Maginnis.
Annabel's journey started out doing nails in her mum's kitchen, to opening a fairy-tale salon with her husband, Elliott and finally launching their own product range. The power duo paired their innovation and passion for the nail industry and sky-rocketed to the top of the UK market.
Since starting the brand, Glitterbels has built a fabulous community for nail technicians and enthusiasts. Their social media platforms are a place for people to learn, create and have fun. With over 400+ Acrylic Powders, 300+ Gel Colors and an amazing range of 70+ Builder-bel Gels, they offer an extensive range of products for the professional nail technician. Everything you could ever need to create a gorgeous set of nails can be shipped anywhere in the USA.
Premium formulas, improved ingredients and vigorous testing processes are just some of the things that set Glitterbels apart from the rest. Glitterbels plan year-round to launch new and ground-breaking USA and UK-made products of the highest quality, so their 50,000 happy customers can focus on giving their clients the best experience every time.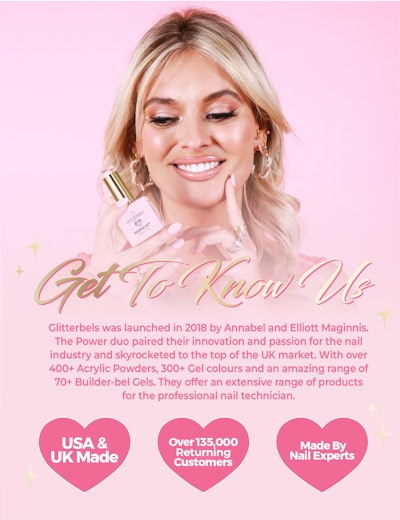 Currently based in Staffordshire, UK, Glitterbels is known for its gorgeous pink warehouse. Glitterbels are proud to announce that they have officially launched in the USA, with a brand new and magical HQ in Atlanta, Georgia. The Glitterbels team has been working tirelessly over the past year to make sure they can bring faster service and shipping to their customers in the States.
The brand's dedicated team utilizes cutting-edge technology to bring magical products to their customers around the globe, from Middleport to Mississippi. Transparency is at the heart of Glitterbels ethos, and the brand loves bringing its wonderful customers along on the journey. To celebrate the expansion, Glitterbels is kicking things off with a Black Friday discount for all its lovely US customers. Now that they can ship our products from their new USA headquarters, they can guarantee 1–2-day delivery times across the entire United States.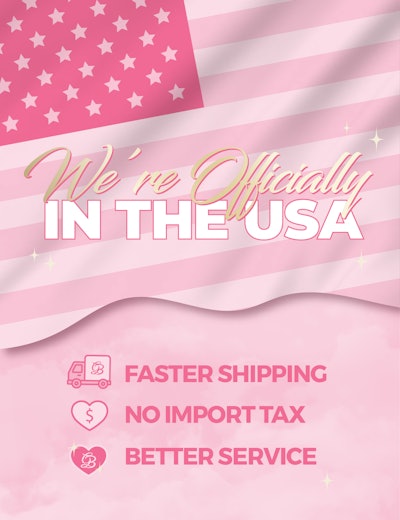 Along with their fantastic range of products, Glitterbels will also be working on offering our training courses to their United States customers in the near future. Glitterbels Training Academy is an award-winning team of educators who are fully qualified and trained using the Glitterbels products, so for those nail technicians looking to brush up on their current skills or those looking for a new career, Glitterbels will have you covered.
Glitterbels can't wait to start its journey in the USA and wants to take this moment to thank all of their customers worldwide for their support and passion.
You can shop Glitterbels now, and they currently have up to 40% OFF until the 30th.