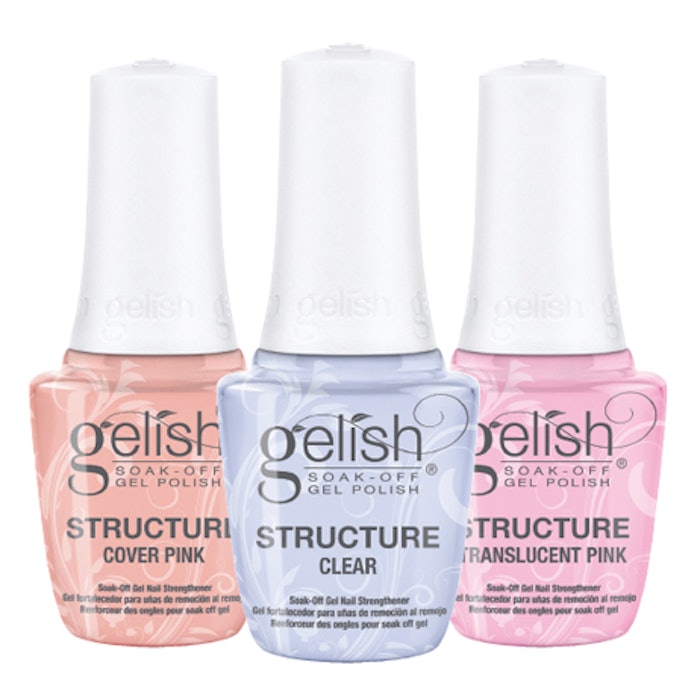 Gelish introduces not one, but two brand new pink perfecting Structure Gel shades!
Originally only available in clear, Structure Gel improves the look of damaged, uneven or troubled nail plates. Now, nail technicians can use the new Translucent Pink and Cover Pink shades as concealer for the nails, hiding imperfections while providing added strength to give the appearance of truly flawless nails.
Any of the Structure Gel shades can be worn alone or as a base coat for other colors, and with its soak-off removal, it's an easy yet effective solution to many nail woes.
The main benefits of Structure Gel:
Thicker Viscosity: Structure Gel will enhance the strength of the natural nail and create more durability.
Multiple Uses: It corrects damaged nail plates by filling in ridges or demarcations to make the nails look even.
Versatile Application: Structure Gel gives nail technicians the versatility necessary to repair damaged nail plates or hide imperfections.
"Not all nails are created equal and flaws can happen for a variety of reasons," says Danny Haile, CEO and founder of Gelish. "But with Structure Gel, those troublesome nail imperfections can be neutralized, giving the appearance of flawless nails with added strength!"
Gelish Structure Gel is available at Nail Technicians Supply.
Here, some nail artists putting Structure Gel to work and showcasing the results on Instagram:
For Natural Nails (courtesy of @breedlovehoops)
To Reinforce Longer Nails (courtesy of @becca_butterworths_beautitude)
To Camouflage Imperfections (courtesy of @sorrour_nail)

To see how to use Gelish Structure Gel in action, watch this simple step-by-step tutorial!