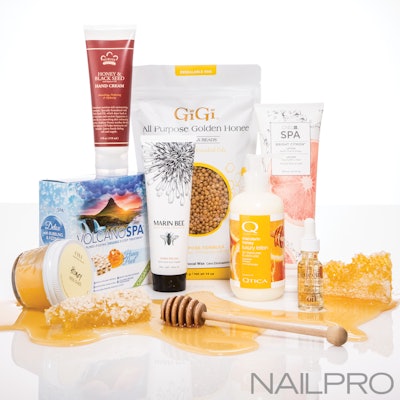 Naturally high in antioxidants, honey provides moisture and soothes troubled skin, plus it promotes a youthful appearance by tightening skin and pores. Offer clients a naturally sweet treat with products fit for a queen bee.
Here we've picked some of our favorites!
Nubian Heritage Honey & Black Seed Hand Cream
GiGi All Purpose Golden Honee Hard Wax Beads
CND Spa Bright Citron Lotion
La Palm Volcano Spa Pedicure in Honey Pearl
Farmhouse Fresh Honey Heel Glaze
Marin Bee Honey Polish
Qtica Smart Spa Mandarin Honey Luxury Lotion
Cuccio Naturalé Milk & Honey Cuticle Oil
Related: Give clients a refreshing citrus pedicure!
-Dina Ciccarelli