Fall is filled with change. The leaves shift from green to orange and red; the lazy days of summer become busy school days; and the feeling in the air turns from sunny and bright to crisp and cool. Similarly, the scents of the season follow suit with warm and cozy pairings: think, vanilla and almond or cinnamon and apple. Here, our favorite autumn product picks for techs and clients alike.
Layer the scent of cinnamon and color of apples into your fall services.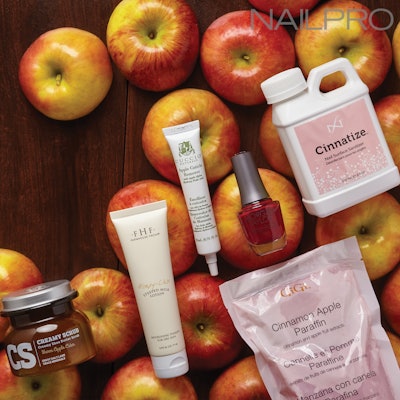 Pictured: Cuccio Naturalé Apple Cuticle Remover, Famous Names Cinnatize Nail Surface Sanitizer,  Farmhouse Fresh Honey-Chai Steeped Milk Lotion, Gigi Cinnamon Apple Paraffin, Morgan Taylor All Tango-d Up, Salt of the Earth Warm Apple, Cider Creamy Scrub
Vanilla- and almond-scented products cozy up to rich fall hues.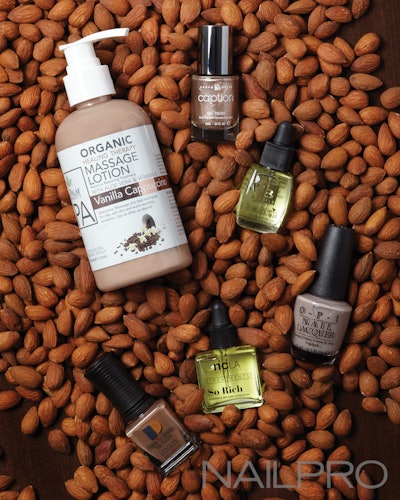 La Palm Vanilla Cappuccino Massage Lotion, Caption Wakey Wakey, Barielle Cuticle Conditioning Oil with Almond Oil, LeChat Dare to Wear Harmony, NCLA So Rich Dark Almond Cuticle Oil, OPI Icelanded a Bottle of OPI
Rich shades of crimson complement unexpected fall scents.
Orly Just Bitten, Xtreme Nail Intense Cranberry Cuticle Oil, Essie Apricot Cuticle Oil, BCL Pitaya Dragon Fruit Sugar Scrub, CND Vinylux Berry Boudoir, Jessica Body Treats Blackcherry-Nutmeg Hand & Body Lotion
Which one of these fall fragrance nail products is your favorite? Let us know in the comments below!
-Dina Cicccarelli
[Photography by Jason Bennett]