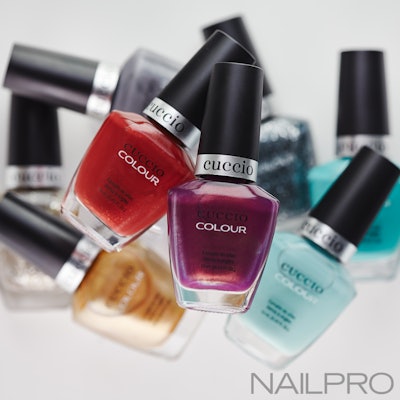 This season, Cuccio wants you to offer clients a backstage pass to a rocking array of shades from its In Concert collection. Featuring soulful and sultry nail shades, this set of eight new shades will have you grooving through your manicure and pedicure services.
Colors include: Groupie, red with fine gold glitter; Spotlight, gold glitter, Front Row, medium blue cream; Backstage Pass, gold shimmer; Roadie, silver glitter; Rockstar, berry shimmer; World Tour, soft blue cream (not pictured); and Sold Out, griege, violet shimmer.
Cuccio In Concert is also available in its Veneer gel polish formula on cuccio.com.
What do you think of the Cuccio In Concert collection? Let us know in the comments below!
-Sigourney Nuñez
[Photography by Jason Bennett]