NAILPRO Competitions 2018 sponsor LeChat Nails is known for making trendy products like the Glow-in-Dark Geleé polymer powders, so naturally, we were excited to see what new shades we'd see at the NAILPRO Sacramento 2017 show floor. That's where we learned about LeChat Perfect Match Metallux collection including six new duo tone, shade-shifting finishes available in lacquer and gel polish.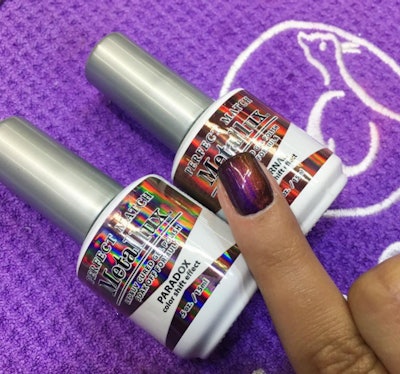 Watch the video below to learn how to use two shades from the Metallux collection to easily execute a duo tone chrome ombre nail art design. Educator Yvette Holt shows us how here.
For more information about LeChat Nails Perfect Match Metallux colleciton, visit lechatnails.com.
What do you think of this ombre demo? Let us know in the comments below! 
-Sigourney Nuñez
See more tutorials from NAILPRO Sacramento 2017 here.