The Dazzle Dry Stamping Lacquers collection is available in four classic colors: silver, gold, black and white. Use it with your favorite traditional or gel polish to create dazzling nail art.
1. Prep the nail. Apply two coats of dark blue gel polish*, curing after each.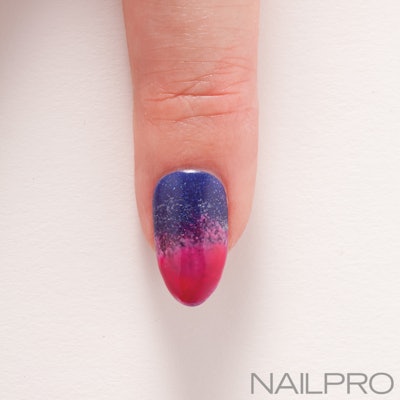 2. Starting at the tip, sponge pink gel polish* onto one half of the nail. Cure.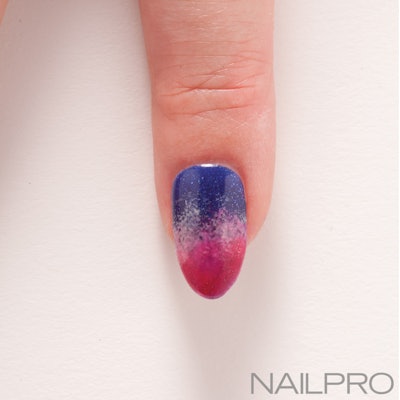 3. Next, to create a gradient effect, sponge coral gel polish* at the point where the dark blue and pink polish meet. Cure.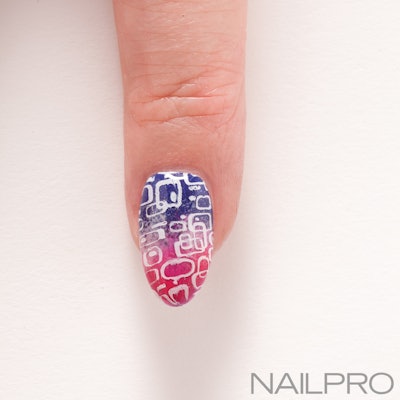 4. Apply White Stamping Lacquer to a stamping plate. Swipe a credit card across the plate to remove excess polish. Use a stamper to pick up the design, then press the stamper onto the nail to apply. Cure. To finish, apply gel top coat and cure.
*Not included in collection.
What's your best stamping trick? Let us know in the comments below!
[Photos: Jason Bennett; Nail Tech: Jolene Brodeur]
READ MORE:
4 Stamping Techniques to Try Right Now