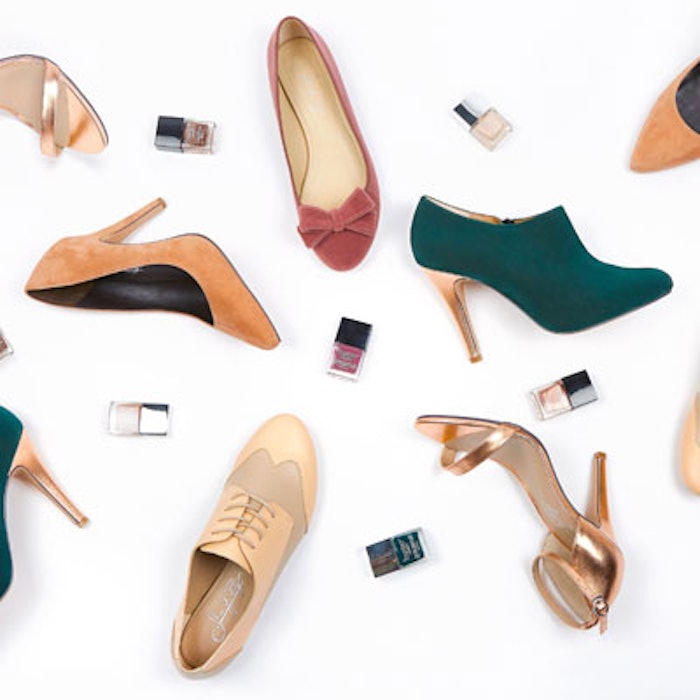 Nails meet their perfect match in this limited edition nail polish collection by fan-fave butter London and Shoes of Prey.
butter London & Shoes of Prey Launch Limited Edition Nail Lacquer Collection
We all have our favorite power couple, whether it be Brangelina, Beyon-Z or Hiddleswift (that one we're still coming to terms with), but our favorite power couple of all time has to be the perfect pedicure paired with our favorite pair of open toe heels.
Drawing inspiration from power couples we either love to hate or hate to love (Tom Brady and Gisele Bundchen; I mean, could you guys be any more perfect?), butter London has teamed up with Shoes of Prey to create a six piece, limited edition nail polish set.
The exclusive nail lacquer shades were designed to match the shoe brand's hottest fall trend fabrics, allowing you to get matchy-matchy or try a new, bold look altogether.
Shoes of Prey is unlike any other shoe retailer in that you can design your own heels either online or in-store. That pair of coral Iriza Christian Louboutin pumps you've been wanting all year long? You can design something similar at half the price. No complaints here.
The six shades featured in the limited edition collection were inspired by lush velvet, buttery suede and textured glitter finishes, all created with the 8-free, highly-pigmented, high-performing lacquer fans have come to expect from Butter.
Below, the six polishes.
Oxfords, Not Brogues

A warm nude shimmer with rose micro glitter matched with rose gold soft leather.
Smoking Slippers

A deep bottle green crème matched with green velvet.
Bossy Boots

A soft toast crème matched with tan suede.
Dancing Shoes

A chocolate bronze glitter matched with blush soft leather.
Flat Out Fabulous

A dusky rose crème matched with dusty rose velvet.
Stiletto Strut

A rose gold metallic with silver micro glitter matched with bronze sparkle material.
The polish collection can be purchased as a set for $39 and will launch exclusively at Nordstroms this July 2016!
Which lacquer was your favorite? Will you be purchasing this collection?