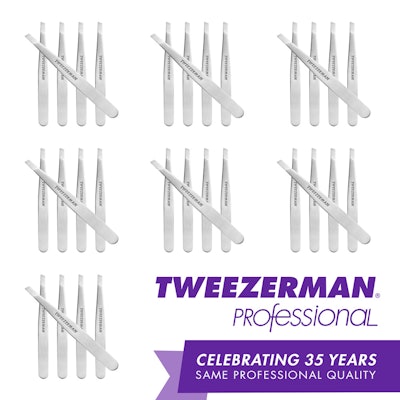 As Tweezerman celebrates its 35th anniversary, we felt there was no better time to take a closer look at the company and reveal why it's the go-to brand for the best in beauty tools!
THE COMPANY
Tweezerman International
CLAIM TO FAME
The Slant Tweezer
Tweezerman Slant is the company's #1 selling tool and has been since its launch in 1982. The perfectly aligned, hand-filed, precision-slanted tip tweezer has been awarded Allure's Best of Beauty Editors' Choice every year since 2000—it was even inducted into the Allure "Hall of Fame" in 2011.
WHY WE LOVE THEM (and why you should, too!)
Tweezerman is known as "the little black dress of beauty tools." When it comes to the company, a few words immediately pop into our head: quality, reliability, innovation and service (did you know that all of its tools are backed by Tweezerman's Lifetime and Free Sharpening Guarantee?!). Plus, most nail artists, makeup artists, celebrities, beauty editors—even consumers—will tell you that they have at least one Tweezerman product in their go-to arsenal of tools.
They're more than just tweezers. It's true that the Tweezerman Slant is the company's best-selling tool, but that's only scratching the surface. From scissors and pushers to clippers and nippers, a nail artist could practically set up her entire tool kit with the one brand!
Giving back is a large part of the Tweezerman culture. The company has supported hundreds of humanitarian, environmental, community and charitable organizations, including Smile Train, Starlight Children's Foundation, National Arbor Day Foundation, March of Dimes, Dress for Success, Habitat for Humanity, The Humane Society of the U.S. and more. And every year, Tweezerman creates a beauty tool to support Breast Cancer Awareness initiatives; for every tool sold, $1 is donated to various BCA charities.
Looking to get your hands on your own Tweezerman products? Check out tweezerman.com/anniversarycontest and enter for a chance to win an iPad Mini or 1 of 35 engraved Tweezerman tweezers!
And if we *had* to narrow it down to 3 of the most essential Tweezerman manicure products, it would be:

3. Cobalt Stainless Cuticle Nipper