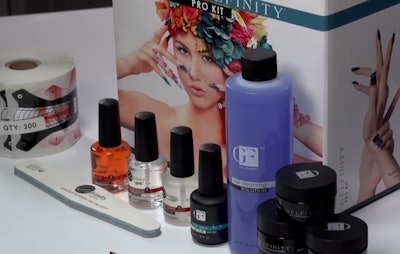 When buying new products, it helps to actually see, read, and watch a demonstration of the products that are inside the box. Even if the nearest retailer of KUPA products is a drive for you, you can still check out the long list of products included in the Gelfinity Hard Gel Pro Kit up close. KUPA Master Educator Jess Alexander does an unboxing and review in this video:
A couple highlights:
The UV/LED lamp is large enough to fit an entire hand, including the thumb, and its 10-, 30-, 60-, and 90-second buttons allow you to easily time your curing with a single click.
The UV Phoria High Gloss Gel Sealer will save you time because it doesn't need to be cleansed at the end of the service. Just cure and your client is good to go.
The Gelfinity Hard Gel Pro Kit includes:
5 jars of the 15 ml gels: a hard gel builder, a thin gel, a cover pink, a sheer pink, and a bright white
Nail cleansing solution
Divinity Peace, Love, Harmony bundle (nail prep pH base coat, acid free nail primer, nail and cuticle treatment)
 300 Infinite Nail forms
Shaper/Buffer file
2-in-1 gel brush and dotting tool
UV Phoria High Gloss Gel Sealer
UV/LED lamp
[Images/video: KUPA, Inc.]