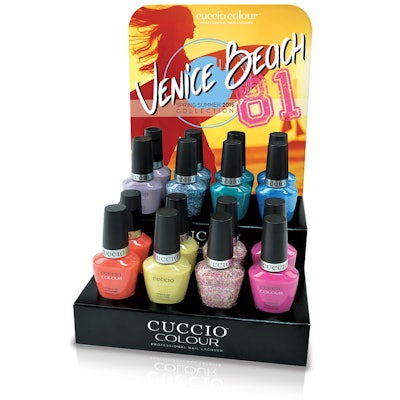 The newest collection from Cuccio Colour is Venice Beach '81 – designed for Spring and Summer 2015. The set includes 8 upbeat colors (including a couple chunky glitters in funky 80's shades) that take inspiration from the legendary Venice Boardwalk.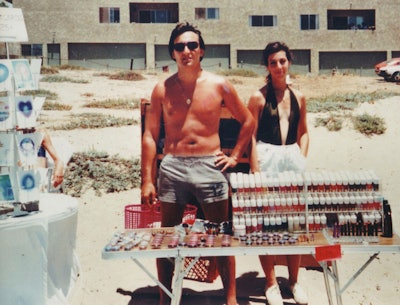 This set is especially important for Cuccio as it represents the place where the brand began. Tony Cuccio had a big gambling win back in 1981 and his opponent didn't have the cash to pay up. His opponent did, however, have a beauty business and a huge supply of extra polishes and makeup products that he gave to Tony to pay his debt. Tony and his wife Roby decided to set up a table on the Venice Boardwalk to sell it all – and sales went so well that they ended up creating their own brand and formula. And yes, that's an actual photo of them out there selling their wares!
The lineup of colors includes:
A Star is Born (chunky light blue, purple, and lavender glitter)
Pink Cadillac (powerful hot pink)
California Dreaming (beachy red orange)
Roller Skate! (roller derby inspired bright blue glitter)
Mimes & Musicians (mix of hot pink, pastel orange, and light pink chunky glitters)
Good Vibrations (sunny soft yellow)
Muscle Beach (dark 80s teal)
Soul Surfer (serene lavender)
Venice Beach '81 will be available in both traditional Cuccio Colour lacquers and LED/UV soak-off Veneer.
[Images: Cuccio]