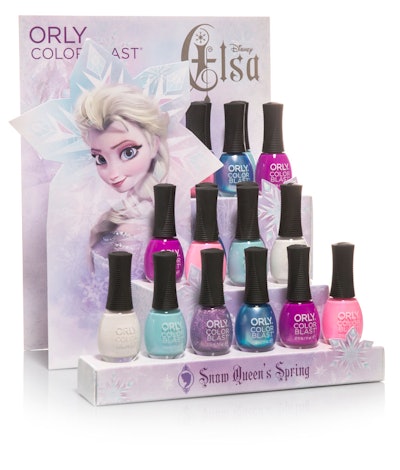 It's been more than a year since Disney's Frozen hit the theaters, and everyone's still got brain freeze from it. Children, teenagers, parents – everyone – is in love with Elsa and her sister Anna. Even ORLY seems to be in love with the icy queen.
Teaming up with Disney, ORLY produced a limited edition Color Blast collection based around the Elsa and her friends. Available only in March at Walgreens stores nationwide, no Disney fan is going to want to miss. The Elsa collection is only the first of several Disney/ORLY Color Blast collections that will be coming out in May, July, September, and November of this year. These future collections will also be available exclusively at Walgreens.
The Elsa Collection consists of 12 colors, with 6 wintery shimmers and 6 warm crèmes. Each color is available for $6.99 each, or in a duo kit for $10.99.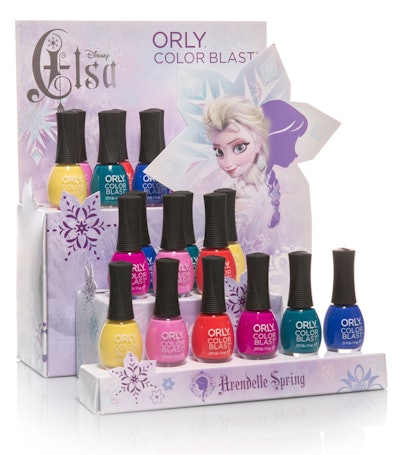 The colors available in the collection are:
Ice-Solated: an aqua shimmer
Coronation Ball: a lavender with lilac glitter
Frozen: a sky blue shimmer
Watch Out Or, Elsa!: a bright purple shimmer
Winter Blush: a pink shimmer
Snow Queen: a white shimmer
In Summer: a bright yellow shimmer
Olaf You A Lot: a pink crème
Warm Hugs: a bright coral crème
Free Spirit: a bright purple crème
Kristoff He Goes: a teal crème
A Happy… Puddle: a cobalt blue crème
[Images: ORLY]