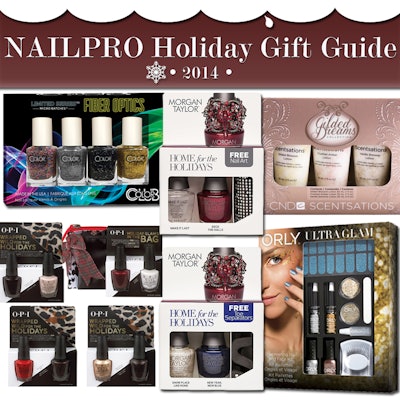 It's time to start making your gift lists! We've rounded up some of our favorite products this season to share with coworkers, best friends, moms, aunts, and more. Click through and get your holiday shopping out of the way early!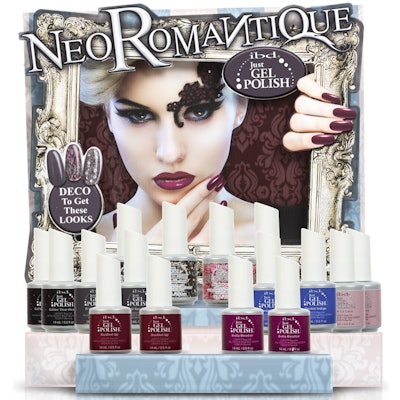 Share the love with your coworkers! The IBD NeoRomantique collection has a mix of dark winter shades, a pretty pink – and multicolored glitters. Fun fact: the shades are available in both IBD Just Gel Polish and Nail Lacquers, so take your pick!  
[Image: IBD]
Whether you're dreaming for crèmes, metallics, or textured Pixiedust all nail polish dreams will come true with the Zoya Wishes collection. For the next level of chic check out the Matte Velvet collection.  
[Image: Zoya]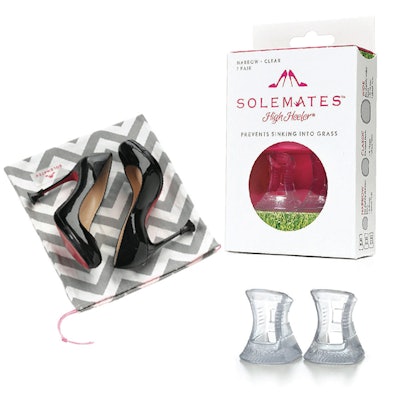 Here's the ultimate solution to getting stilettos stuck in muddy grass: Solemates. This handy piece of clear plastic snaps onto the heel – and prevents it from sinking into dirt and grass at outdoor parties and weddings. 
[Image: Solemates]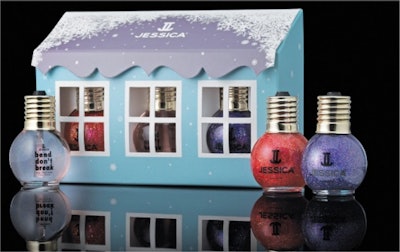 The Jessica Cosmetics Light up the Night collection gets points for its irresistible packaging. The snow-covered holiday house box has windows in it to reveal the three Christmas light-shaped bottles of polish inside. There are two trio choices. Each comes with Light My Fire, an electric pink shimmer, and Bend Don't Break Treatment Basecoat – but you can opt to have the new Lighten Up (rich blue shimmer) or Light House (regal purple shimmer) and your third lacquer.  
[Image: Jessica Cosmetics]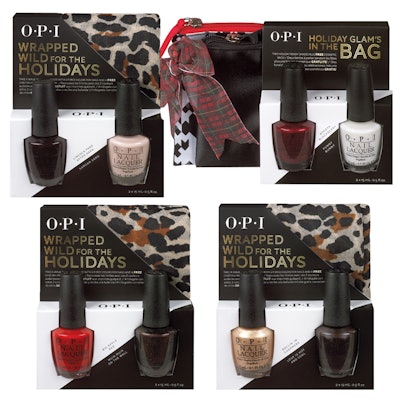 Pick and choose from these four OPI holiday sets! Each one contains a duo of two winter lacquers and a bonus leopard infinity scarf or two cosmetic bags.  
[Image: OPI]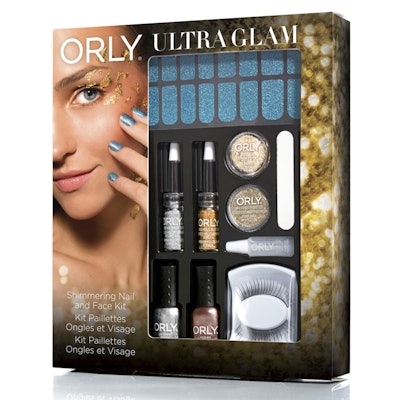 The Orly Ultra Glam Kit includes all the beauty essentials for the holiday season: metallic nail lacquers, holo and foil glitters for eyes or nails, faux lashes and glue, glitter nail wraps, a nail file, and orangewood stick.  
[Image: Orly]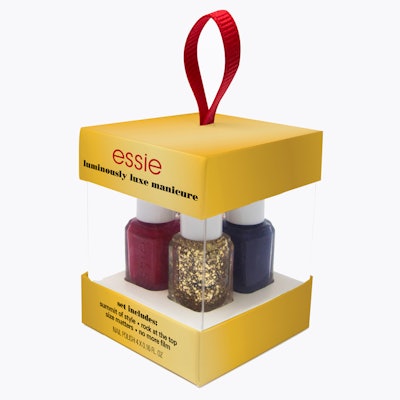 It's an ornament AND nail polish! This season, Essie has a giftable four-pack of popular winter colors: Summit of Style, Rock at the Top, Size Matters, and No More Film.  
[Image: Essie]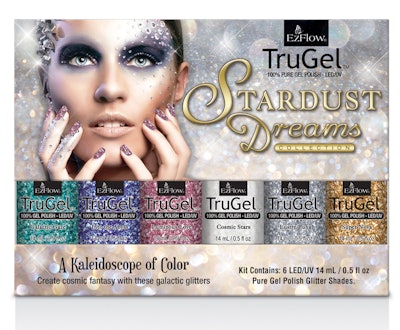 For your fellow glitter lovers, gift EzFlow TruGel Stardust Dreams. This collection contains glitter gels in all your most commonly used colors, including gold, silver, and pink, which can be worn solo or over a colored gel polish.  
[Image: EZFlow]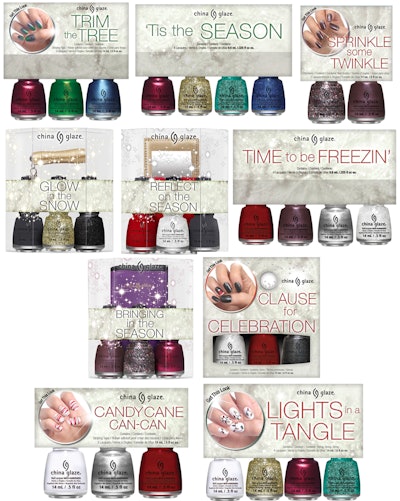 You could easily give each person on your list a different holiday set from China Glaze and be done with your shopping. China Glaze has 10 sets that include colors from their Twinkle collection. Each includes a little something extra: cosmetic bag, keychain light, or nail art supplies for a specific look.
[Image: China Glaze]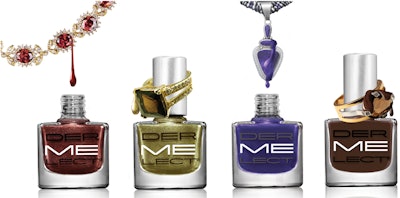 If that special gal on your list is all about the bling, she'll want the Dermelect ME Bejeweled Collection. Four shimmery colors look just like precious stones – and the formula is infused with peptides to strengthen nails and prevent chipping. Diamonds dripping with nail polish not included.
[Image: Dermelect]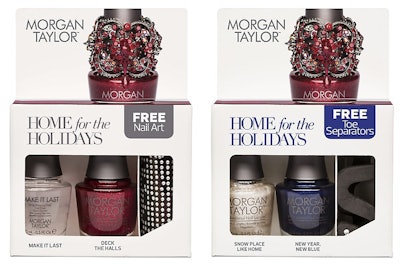 Morgan Taylor has holiday kits for both DIY nail artists and pedicure lovers. The Bling It On Kit contains Deck the Halls, free nail studs, and Make It Last Top Coat for applying those studs. The Home for the Holidays Kit contains free toe separators, plus Snow Place Like Home and New Year (one polish for fingers, the other for toes)!
 
Note: Beauty pros can buy them at a reduced price through Loxa Beauty.
 
[Image: Morgan Taylor, Loxa Beauty]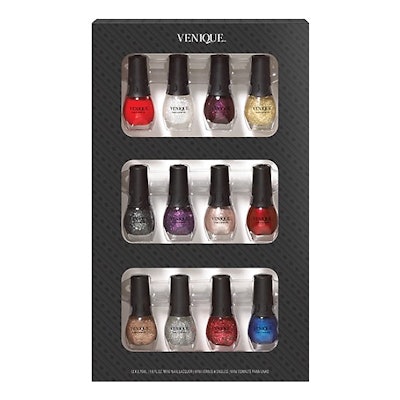 Everything's cuter in mini form, including each of these polishes in the Venique Mini Holiday Blockbuster set. The box contains twelve shades, all of the sparkly and/or holiday variety.
 
Note: Beauty pros can buy them at a reduced price through Loxa Beauty.
 
[Image:Venique, Loxa Beauty]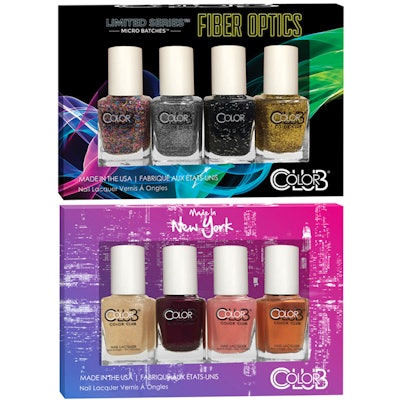 For city girls, there's the Color Club Made in New York set – glitter, shimmer, and metallic to keep those nails bright and busy. When New Year's Eve rolls around, be sure your main girl has the Fiber Optics set – four lacquers jam-packed with festive sparkle!
[Image: Color Club]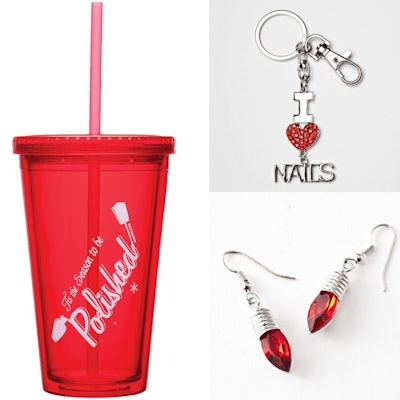 For the nail lovers, the Beauty Etc. store has some goodies. Drink tumblers in red and green say, "Tis the Season to be Polished!" and cute key chains and earrings abound!
[Image: Beauty Etc.]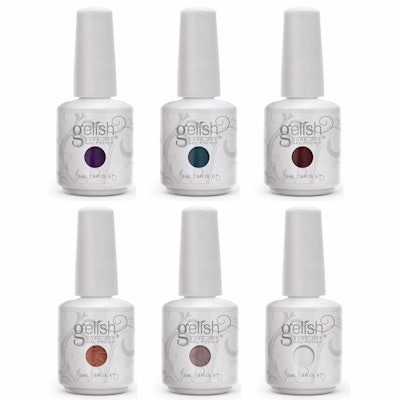 Gelish has this season's perfect arrangement of soak-off gels. The Big Chill 2014 collection is a mix of six gel polish hues – from snowy white to seductive burgundy, and everything in between.
[Image: Gelish]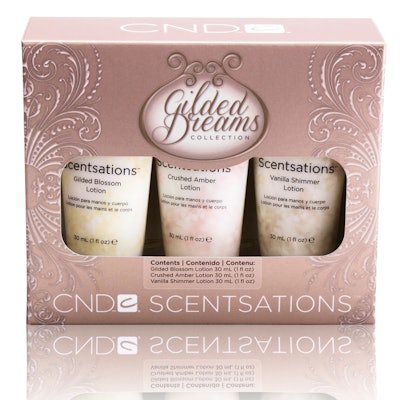 When it gets cold outside, everyone needs the perfect sized lotion to pop in their purse. CND Gilded Dreams Scentsations has three winter flavors: Gilded Blossom, Crushed Amber, and Vanilla Shimmer.
[Image: CND]