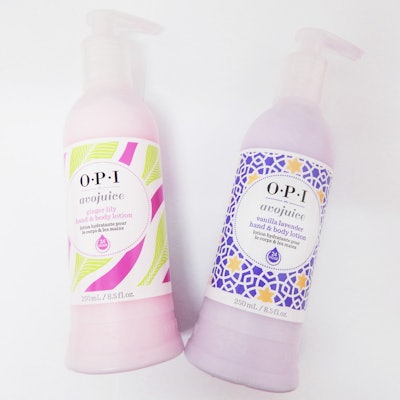 Avojuice lotions from OPI are getting a facelift for the New Year! A label redesign means bottles are more boutique-like and arty. Even the formula inside offers an increased barrier renewal complex, which provides a 21% improvement in moisture retention. They also provide skin 88% more hydration over a 24-hour period.
To fit any clients' preference, the full collection will include scents from all the top categories: floral, fresh, woodsy, and oriental. Suzi Weiss-Fischmann, OPI Co-Founder and Brand Ambassador shares, "The fragrance profiles are cleaner, sharper, and fresher." Pick from Coconut Melon, Mango, Cran and Berry, Peony and Poppy, Ginger Lilly, Jasmine, Violet Orchid, plus two new flavors – Vanilla Lavender and Sweet Lemon Sage.
The redesigned lotions will also come in a new selection of sizes: the 1 oz. Juicie ($1.95, good for retail!), 8.5 oz. bottle (shown here for $9.95; formerly only 6.6 oz.), and a large 20 oz. bottle perfect for professional use ($17.95). These will be available from OPI beginning December 2014, so put them on your holiday shopping list!
Below: before and after the Avojuice redesign.