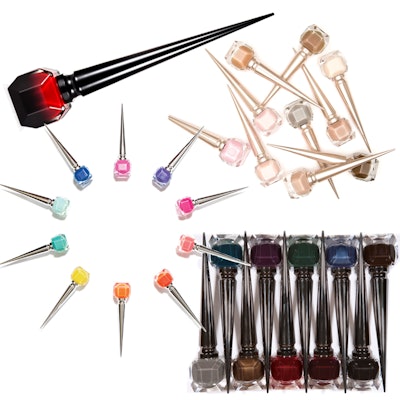 While a little on the pricier side for most salons, Christian Louboutin's new nail polish is certainly making headlines in nail news. The iconic shoemaker started the trend after designing one of his first shoes. When he saw that first prototype, he couldn't help but feel it was missing something. With the flourish of a red nail polish brush, he painted the sole crimson. And thus the red-bottomed shoe was born.
Now as a return to his origins, Louboutin is introducing a series of equally iconic nail lacquers in one-of-a-kind bottles that make the polish appear as if it is encapsulated in crystal. The first and signature color will be Rouge Louboutin – in the iconic red. The bottle will have a smoky ombre effect and the long cap is reminiscent of the stiletto heel.
Following the signature Rouge Louboutin color will be thirty additional colors all inspired by the shoe line. Initially there will be three 10-piece collections, each with their own bottle designation: The Pops (silver cap), The Noirs (gunmetal cap), and The Nudes (rose gold cap.) These will be available August 31st.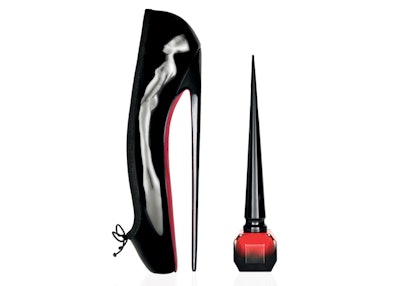 [Images: Christian Louboutin]