If you haven't already, downloading and play with China Glaze's smartphone app, available on for iOS and Android users. The application lets you virtually try on different China Glaze lacquers, watch product videos, and see the latest collections, but our favorite feature by far is the ability to match a pinpointed spot in any image to a coordinating color of China Glaze polish. If you have ever wanted to find the shade of polish you see on a friend's or celeb's digits, now you can. But the possibilities are limitless: find the exact China Glaze shade that matches your salon's logo or find the perfect pairing to your client's outfit, shoes, bracelet, coffee cup– pretty much anything!
For instance, NAILPRO's logo at the top of this page is the same hue as China Glaze Gothic Lolita.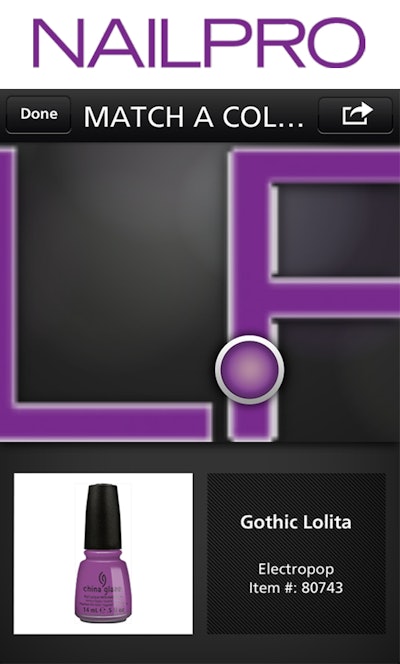 The brand's concept behind the app was simple: "to avoid releasing an app that someone would download and use only once," said Kristen Spaun, director of digital marketing at American International Industries. "We wanted something that never got old to the user and would create lots of user-generated content."
To download the app an iOS, click here.
[Image: Nailpro, China Glaze]