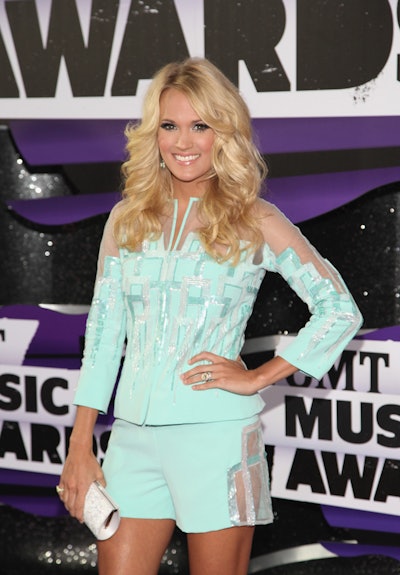 If you're a fan of singer and beauty icon Carrie Underwood, you'll be Blown Away by the All American Girl's latest collaboration. Nicole by OPI is creating 14 new nail lacquers inspired by the award-winning superstar. Available in January, this collection features a colorful mosaic of hues ranging from soft pastels to dark sultry shades to playful glitters. Additionally, the line will include a signature gold textured shade called Carrie'd Away, created exclusively for Carrie.
"This is the first time Nicole by OPI has ever designed a signature shade for one of our celebrity partners! We are excited to share this news with both music and nail fans – isn't that everyone?" explains Suzi Weiss-Fischmann, Nicole by OPI Executive VP & Artistic Director.
"In working closely with Carrie, we came up with 14 nail lacquers that truly encapsulate her soulful spirit and showcase different facets of her personality," adds Weiss-Fischmann. "With shades as American as Apple Pie, you'll get Carrie'd Away by her Southern Charm!"
Nicole by OPI formulas are long-lasting, fast-drying, and salon-quality.  Available at mass retailers, this limited edition promotion will also debut the NEW Nicolelogo.  For more information, visit nicolebyopi.com.
[Image: Taylor Hill/Film Magic/Getty Images]