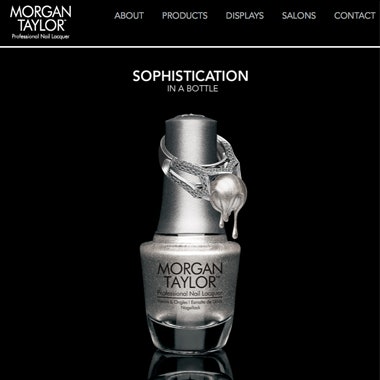 New professional nail polish brand Morgan Taylor is named after Morgan Haile and Taylor Daniel, daughters of the company's founders, Danny Haile and David Daniel, who are also the figureheads of Hand & Nail Harmony (maker of Gelish).
Morgan Taylor has premiered with one hundred different lacquer shades, all dreamed up by Alesia Lanzo. Lanzo's background in color forecasting, along with her creative mind, contributed to her creation of a variety of unique colors previously not common in the polish market. Venturing away from basic crayon colors, Morgan Taylor has unusual shimmers, glitters, teals, and a range of purples which make it different from other professional brands. Pictured below is No Way Rosé, In The Nude, Man of the Moment, Little Black Dress, and P.S. I Love You.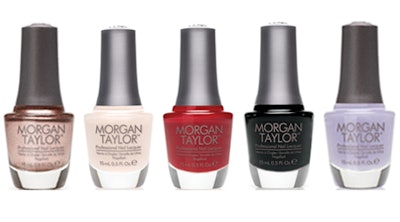 Aside from color, Morgan Taylor also has a range of care products such as Mattes A Wrap matte top coat, Stick With It sticky base coat that prolongs the life of manicures, and the Need for Speed "faster-than-fast-dry top coat."
The bottles are also designed to make your job easier, with easy to open ergonomic caps and wide professional brushes that allow you to coat the entire nail bed with fewer strokes.
Their sleek new black and white website, morgantaylorlacquer.com, which just recently launched, features a layout just as fresh as the brand's color palette. The site also indicates whether each shade is a glitter, créme, metallic, sheer, pearl, or shimmer, so there's no surprise after application. Although the salon locator is still being fine tuned, in the near future having your salon's name on the list will be a great way to promote your own stellar services.
[Images: Morgan Taylor, Nail Alliance]