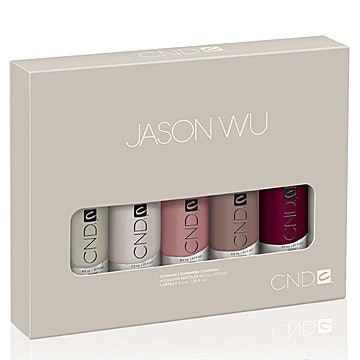 Fashion designer Jason Wu is adding another skill to his resume: nail polish mixologist! Wu teamed up with CND—the company's first designer collaboration—to create the Jason Wu Color & Effect Collection. The hues debuted in September with Wu's Spring 2011 runway collection during Mercedes-Benz Fashion Week in New York, and included four shades and one effect.
"Every season I play with different ways of using color in my collection, so it was a natural choice to collaborate with CND on a capsule of nail colors that reflects my aesthetics," explains Wu. "Included in the set is my signature gray color [Miss Wu]."
Also included in the collection are pink Briggitte, mushroom taupe Sophia, oxblood red Veronica and tweed effect Anna. The Jason Wu Color & Effect Collection will be available for purchase in salons and at CND.com in May 2011.