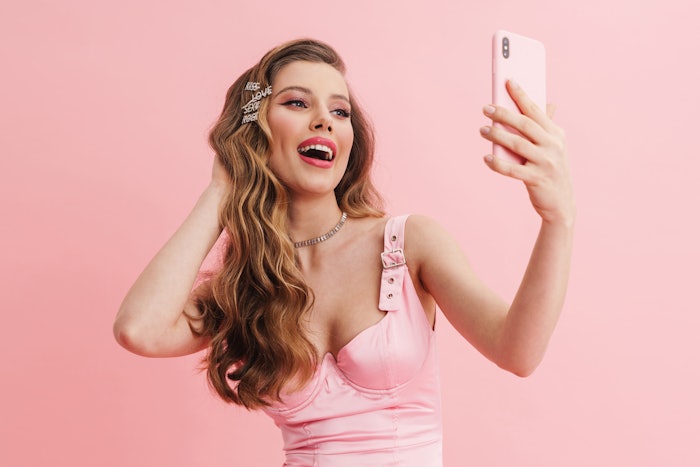 When defining style, Gen Z are all for identifying themselves through "aesthetics" or "-cores." 
These are defined as visual art styles, often accompanied by fashion/beauty styles, subcultures or music genres, usually originating from social media.  
With 'aesthetics' and '-cores' being the key drivers of fashion and beauty trends, Beauty Daily by Clarins decided to delve into TikTok & Pinterest data to find the fastest-growing aesthetics & cores for summer 2023 amongst consumers.  
Here's what they found to be the top six trending aesthetics for summer 2023: 
1. Barbiecore 
With the new Barbie movie launch this July, Pinterest searches for 'Barbiecore' have increased +2,000% up from last year. It has garnered 505.5 million views on TikTok - and the trend is defined by all things pink. 'Barbie pink nails' has also increased +200% in searches on Pinterest from last year. 
2. Sofia Richie Aesthetic 
Sofia Richie is paving the way for celebrity style this summer, with #sofiarichiestyle garnering 372.3 million TikTok views. Following her wedding, we've also seen a +8,500% increase in Pinterest searches up from last year. Her style embodies TikTok's 'quiet luxury' aesthetic, and the influencer exemplifies laid-back, tailored minimalism. 
3. Mermaidcore 
From loose waves to iridescent eyeshadow – 'Mermaidcore' is in. With the launch of the highly anticipated "The Little Mermaid," it's no surprise the hashtag #mermaidcore has 363.4 million views. Searches on Pinterest have also increased by +2,000% from last year. 'Turquoise nail designs' have also shot up in interest on Pinterest searches, increasing +200%. 
4. Coconut Girl Aesthetic 
The 'coconut girl aesthetic' embodies all things tropical. Coined in 2021, the aesthetic is rising again as a leading summer trend increasing in Pinterest searches up +5,550% from last year. With the #coconutgirlaesthetic hashtag at 106.3 million, the aesthetic embodies Y2K surfer girl style. The look embodies hibiscus prints, effortless air-dried hair, dewy bronzed skin and hydrated, glossy lips.
5. Sirencore 
'Sirens', known as the dark, edgy sisters to mermaids, is an aesthetic on the rise – increasing +10,000% in Pinterest searches from last year. With #sirencore generating 66 million TikTok views, the aesthetic is defined by dark hair, crochet outfits and seductive dark make-up. 'Siren eyes' are especially trending, characterized by sharp inner corner eyeliner that elongates the eyes.
6. Blokettecore
'Blokettecore', by definition, is the aesthetic of stereotypical British 'bloke' culture style meets hyper-feminine coquette. Increasing +10,000% in searches on Pinterest Trends from last year, the aesthetic is characterized by baggy football t-shirts, mini skirts, Lana Del Rey-style eyeliner, doe eyes and rosy cheeks.