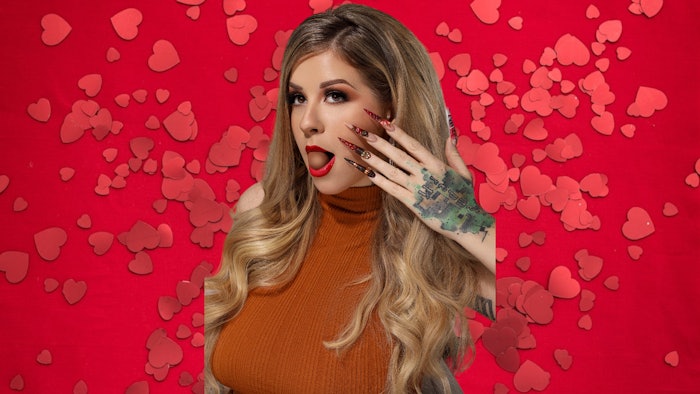 Get to know Valentino Beauty Pure Brand Ambassador Jessica Champagne (@champagneinfused), who created our cover nail design and appears on our cover photographed by Triinu Akimseu (@triinu_akimseu).
About Jessica
Hi! My name is Jessica Champagne, but I love to go by Champagne! I've been in love with the beauty industry since I was a little girl. Once I got married to my incredible husband, we moved to Okinawa, Japan, and I was able to take a makeup artist course. I've been a certified MUA since 2017. I always knew I wanted to add to my craft, so I dove right in with nails.
I love the freedom my career provides me. I have freedom to choose who I work with, over my schedule and in the direction I take my future. It's extremely rewarding to love what you do!
I'm easily inspired by the things around me and find creativity everywhere I look. Painting tiny portraits is my favorite; the feeling I get when I paint an actual face of someone is incredible.
Cover Design
My cover design was inspired by Valentine's Day. When I think of the holiday, I think romance, red, chocolate, love and passion. I added a "chocolate" NP to show my love of Nailpro magazine. I wanted not only my nails to convey romance and passion but the overall makeup and set design as well.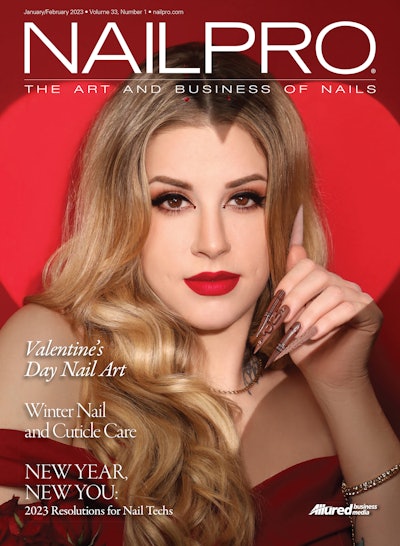 The Future
My place in the beauty industry is just beginning. I have so much passion and love for what I do. I have two beautiful little girls who I want to make proud, and I want something to leave for them. Challenges and trials come and go, but surrounding yourself with people who are passionate, patient and kind goes a long way.
I have new goals every day. The phrase "the tongue has the power of life and death" goes deep for me. My main goals are to take care of myself and my family and continue to push myself to learn everything I can in nails. I know I'll never stop pushing myself. I've always said that no matter what, I was going to do something BIG; I would say these things out loud, and now I'm on the cover of Nailpro!