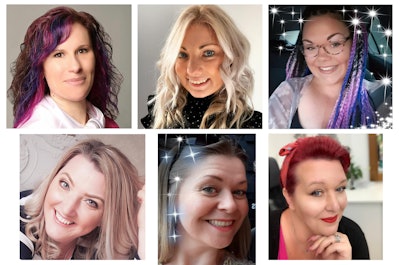 Guin Deadman, award-winning nail artist, collaborates with international nail artist and educator Sam Biddle along with four other celebrated nail professionals Katie Barnes, Paula Spencer, Melanie Lewendon and Lauren McBride, in an amazing and unique online nail challenge.
These nail educators will come together to produce a first of its kind course. The '30 Nails in 30 Days Challenge' is for nail professionals who want to learn a range of skills at an affordable price. 
Nail professionals will work alongside the educators each day as the lessons are released or they can binge them all at once. One lesson, released daily throughout November, will teach a different set of skills, giving nail professionals a range of application techniques and nail knowledge.
Each of the educators have provided lessons in different categories: Nail Art for the Salon, Portraiture, Fantasy, Mixed Media, Watercolor, Character Painting and Crystal Application. Participants will learn basic and advanced shape application, as well as popular seasonal designs. 
For hours of education from six seasoned nail educators and artists, valued at more than $3,500 worth of education, participants can get lifetime access to this challenge for just $69. To sign up and join this unique education opportunity, visit Be Inspired Online Academy.