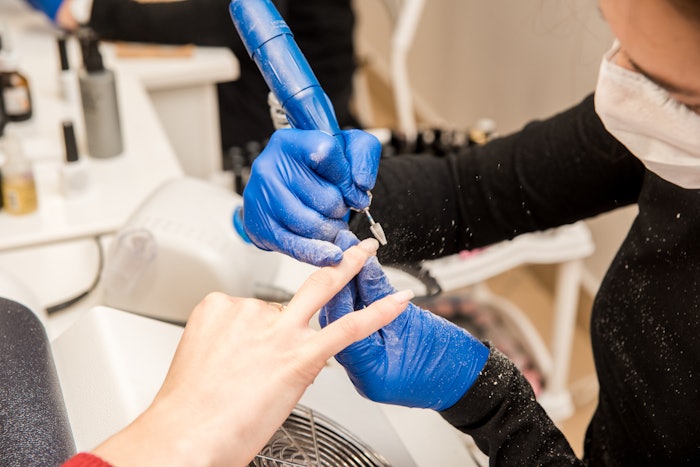 Your learning does not stop the moment you acquire your nail technician license.
Whether it is for your skills and techniques, sustainability in your salon or personal and business growth, there is a plethora of education for you to gain. NAILPRO spoke with several beauty professionals at the Wella Company Beauty Envision Awards 2021 to gain their insight on the topics of becoming more sustainable, supporting the nail industry and finding quality education.
Becoming More Sustainable
One area you may consider researching more about is sustainability at your workstation or in your salon. Some businesses have waterless pedicures, and others invest in nontoxic products or send their extras to charities.
CEO of Wella Company Annie Young-Scrivner shares: "It is one of the things we talk about a lot in our senior leadership level: sustainability in the salon. Whether it is water—you are soaking your hands in water, [for] pedicures, you are soaking your feet—water tables are going down. How do we ensure that is right? Packaging. The recyclability of packaging as well and the pure ingredients we use and ensuring we order the right amount so there is no waste. All of those are really important. That is what we want to work with salons on."
Supporting the Nail Industry
With the rise of quarantine nail DIYers, it has become even more pressing to support licensed nail professionals. Although Wella and OPI offer products to both consumers and professionals, Young-Scrivner shares how we can support our pros: "I think as [nail professionals] continue to level up on services, experiences are really important as well. People are going to try it at home—they are not all going to be good at it, right? I think there will be even more appreciation for the professional. Because when you try it at home, you realize it is really hard. And the artistry is going to be even more important. And the quality of products that the salon uses is going to be really important as well."
As the community of nail enthusiasts grows, so has the community of nail technicians and artists. Many people can acknowledge that doing nails or nail art is not easy. It has evolved beyond a simple manicure or pedicure; it has become a level of self-care. So, finding the right nail technician to provide you with the best service starts with finding one who is licensed.
Sonya Dove, Wella Professionals global creative artist, touches upon supporting the diversity: "I feel how the beauty industry can support diversity in the nails, within the nail world, is to really honor each person. Everyone, for me, is a human being, and they have a nugget of gold in them. Everyone does," She shares. "What I think is really great is everyone has taken the time to learn this skill level...It is not just something you can do at home. It is art—that makes people feel good, regardless of what ethnicity you come from. It is to be inclusive of everyone...We have had challenges within the hair world of that. We have had our time."
She continues, "Now we are starting to be inclusive of all diversities. And I think for the nails, everyone is fantastic. They should not be put in brackets. They really should not. And we should not put them in brackets. We need to have compassion for what it takes to be a nail tech. It is not easy. It really is not easy. And we have to have an understanding that everyone is great, everyone is perfect. They do not have to be somebody else. They just have to be true to their own spirit and their own heart. The only way you can be like that is to always voice out and be proud of who you are personally, regardless of your background."
Keya Neal, industry activist and founder of Texture Vs. Race and Kolour Kulture, shares her perspective, "I feel like the nail industry is also very segregated. I believe the education and exposure, working together, coming together, even more, making sure everybody is on the same page will help give us more diversity because I feel like there are not enough black and brown nail techs out there. I think they think they have lost the industry a little bit. So, it is exciting to see more diversity, to see more people getting into the art of nails."
Carole Protat, senior director of Wella Brand Education, Artists and Events, adds, "I think the community is what is most important in our industry. Beauty professionals are about human connection, and community is key to supporting one another and each other. There are a lot of different experts and support systems you can join." She elaborates, "So, associating yourself with a brand that has that in the heart of everything you do is the best way to find like-minded artists who want to be connected and want to continue to work together and support one another."
Finding Quality Education
Along the lines of finding like-minded people, social media can be a useful platform to do just that. From there, you form connections, learn from others and discover more means of education.
Neal states that people need to start with brands first to find quality education and agrees about social media. "I believe when you start looking for education, looking for people doing what you like, then jumping down that rabbit hole of hashtags and finding independent artists as well—I think working together with people and saying, 'hey, can I come to mentor with you, can I come work with you and for you, can I pay you to help me train to elevate my technical skills?' I think that is a beautiful thing. There is a lot of independent education out there. We just need to look for it.
"So, once you find a brand and see who is working with the brands, just go from there. Find people doing what you like and ask them...They do not have to be famous or an influencer. They just have to be good and have something that you want, and I think they will help you."
Dove believes that it is important to look within yourself, too, to find out how you learn best, whether that is digitally or in-person—although she admits that can be a little difficult at the moment. She encourages you to look at what inspires you, as she is more of a hands-on person because everyone learns differently.