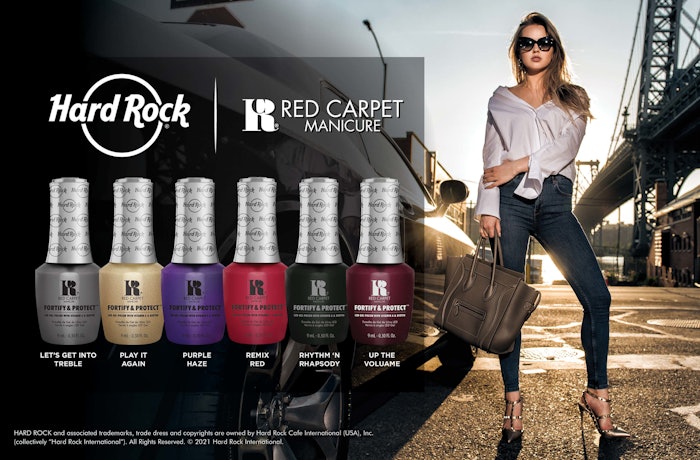 Courtesy of Hard Rock International x Red Carpet Manicure
Hard Rock is one of the world's most recognizable and iconic brands.
Red Carpet Manicure are the creators of an at-home professional salon LED light-activated gel polish system.
"Hard Rock is thrilled to work alongside Red Carpet Manicure and bring this partnership to fruition on a massive scale that will see our products available to ULTA's customer base," said Benito Mendez, vice president of merchandising, e-commerce and licensing at Hard Rock International. "The Hard Rock brand is legendary, cultivating a fan base stretching across the world, and this collaboration brought to us by our agency partner, Cronus Global, reasserts our brand's love for unique, fun forms of self-expression."
The Red Carpet Manicure and Hard Rock collection features six gorgeous, seasonal shades available in both Fortify & Protect and Color Dip formulas.
The shades for this collection include:
Up The Volume: burgundy shimmer
Rhythm 'N Rhapsody: charcoal green crème
Purple Haze: purple-blue pearl
Remix Red: bright red crème
Let's Get Into Treble: concrete grey crème
Play It Again: gold metallic
The Red Carpet Manicure and Hard Rock Fall 2021 collection will be available exclusively at ULTA Beauty stores.