Courtesy of the Smokies Nail Show
The 16th Smokies Nail Show was held July 7-10, 2023 catering to nail techs, recently concluded in the heart of Gatlinburg, TN, home of the Great Smoky Mountains National Park which sees 12+ million visitors a year.
The event brought together industry experts, trendsetters & leading brands for an unforgettable experience celebrating all things nails.
The Smokies Nail Show began in 2008 as a nail tech networking event with 50 licensed techs and grew to be the premier annual nails-only wholesale show dedicated to hand, foot and boutique salon products. It serves as a dynamic platform for industry players to gather, share knowledge, discover innovative products and celebrate the artistry of nails.
The Smokies Nail Show, held at the beautiful Gatlinburg Convention Center, proved to be an unparalleled platform for networking, learning and showcasing the latest innovations in nail care, design and products. Nail technicians, salon/spa owners and beauty school students from across the country (one coming all the way from India as her nail tech sister did in 2011) gathered to be part of the show, with many bringing their families to create Smoky Mountain memories on their tax write-off vacation.
Highlights of the event included: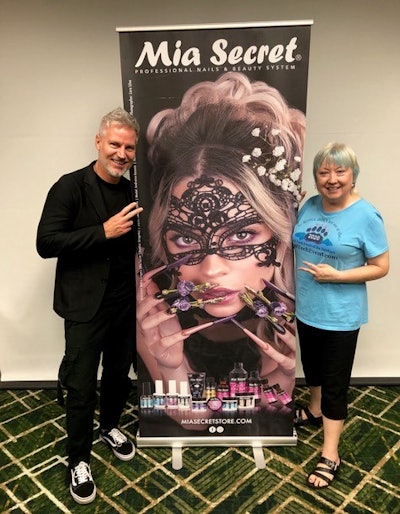 Industry-Leading Exhibitors: The three show floors buzzed with excitement as top-notch exhibitors presented their cutting-edge products, tools and technologies. Attendees had the opportunity to explore and interact with the most sought-after brands, gaining invaluable insights to elevate their nail services. Several exhibiting nail companies were thrilled to have sold out of most products midway through the day and were happily taking sales orders for shipment.
Workshops and Seminars: Renowned industry professionals led three days (Fri/Sat/Mon) of 30+ optional paid interactive workshops and seminars with several selling out in advance. Educators shared their expertise and techniques to inspire nail techs as well as enhance the skills of participants. From nail art masterclasses to business development strategies to advanced foot care, attendees left with a wealth of knowledge to boost their careers.
Networking Opportunities: The NEW "Swag Swap Center" provided a conducive environment for networking and relaxation, while fostering connections among nail techs. Attendees had the chance to exchange nail swag, discuss problem solving techniques and forge meaningful relationships, plus explore potential collaborations that could shape their professional journey. 
"We are thrilled to witness the overwhelming response and enthusiasm from the nail tech community," said Jill Wright, Event Coordinator. "The passion and dedication displayed by everyone involved highlight the significance of such professional nails-only events in fostering growth and excellence within our licensed nail industry."
The Smokies Nail Show is thankful to the event's sponsors, exhibitors, attendees and partners for contributing to its ongoing success. This event would not have been possible without their unwavering support. The 2023 show's esteemed Sponsors were Light Elegance, Gehwol, 2 Blondes Apparel and Lucas Products.
As the curtain falls on this year's event, anticipation builds for the next installment of the Smokies Nail Show (July 12-15, 2024).