While veteran nail techs remain invaluable resources because of their experience, there's a new crop of talented young artists who are turning the nail industry upside down. So, we decided to scout some of the best 20-something nail pros for our first-ever 30 Under 30 awards. Get to know one of our winners, Los Angeles, California-based nail artist Taylor Gonzalez!
RELATED: 30 Under 30 Winners Revealed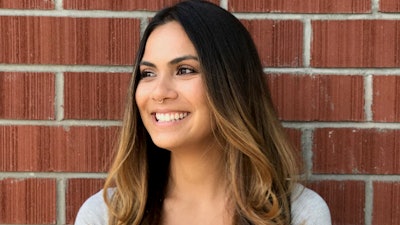 Taylor Gonzalez
Age: 26
Salon: Gloss (owner)
RELATED: 30 Under 30 Lorena Cruz
Gloss owner Gonzalez originally attended cosmetology school to pursue makeup, but unlike her classmates, who dreaded taking the required nail classes, Gonzalez fell in love. "I especially loved shaping nails," she says. "But I was still hesitant since makeup was my comfort zone."
While studying for her state board exam, Gonzalez reached out to Vice Salon in Santa Cruz, to see if they would provide insight on a career in the nail industry—they offered her a job the same day. After working there for a few months, Gonzalez started working independently as a freelance artist—she's now self-employed for over three years.
As for nail art, Gonzalez discovered her knack for hand painting, marbling and embellishing nails using Apres and Young Nails products and gels. "Even though hand painting takes me ages to finish, seeing the finished product and how happy my clients are, satisfies me," she says. "Marbling is timeless and never goes out of style—it's also easy to make look very detailed. The more colors, glitters and foils you add, make it that much more realistic and intricate." Although Gonzalez doesn't get the opportunity to create minimalistic sets very often—since most of her clients think, more is more—she savors simple sets. "I really appreciate the power of adding a single line or small pop of color—it's crazy how doing less can really say more," she says.
Gonzalez says her biggest supporters and inspirations are her family and fiancé. "They all have the best work ethic, are extremely creative and I try my best to emulate that to make them proud."
 

View this post on Instagram

 
—by Angelina Lewis