While veteran nail techs are invaluable resources because of their experience, there's a new crop of talented young artists who are turning the nail industry upside down. So, we decided to scout some of the best 20-something nail pros for our first-ever 30 Under 30 awards. Get to know one of our winners, Asa Bree Sieracki!
RELATED: 30 Under 30 Winners Revealed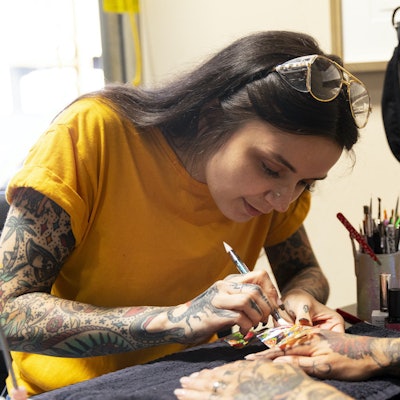 Asa Bree Sieracki
Age: 27
Salon: Finger Bang Portland
RELATED: 30 Under 30 Ashton Harlan
After realizing no one in her hometown offered the type of nail art she envisioned, Portland, Oregon native Sieracki started creating her own nail art. Before enrolling in beauty school, Sieracki worked as a jewelry designer and makeup artist for 10 years. "My childhood neighbor, who owned her own salon, actually gave me my first job in the industry and taught me how to hustle," she says. As a master of abstract linework, Sieracki's strong suit became hand-painted detail. "Nothing satisfies me more than bold, abstract color blocking," says Sieracki. She sources her gel shades and nail products from Presto, The Gel Bottle Inc and Young Nails. She believes the Russian manicure makes a world of difference in the foundation and longevity of each manicure.
 

View this post on Instagram

 
—by Angelina Lewis