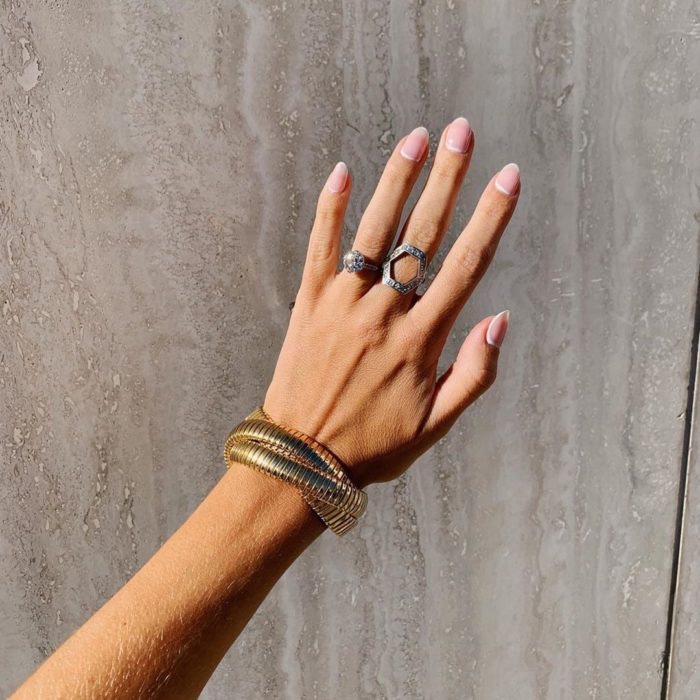 Celebrity nail artists Betina Goldstein, Mei Kawajiri and Rose B created trending nail looks for influencers, celebrities and models alike, who flaunted their unique designs on their Insta pages.
RELATED: 5 Nail Trends Straight Off the Runway
 

View this post on Instagram

 
Goldstein hand painted a double reverse French manicure for former Victoria's Secret model and Rose Inc. founder Rosie Huntington-Whiteley. The natural nail artist applied two coats of cult favorite OPI Gel Bubble Bath, and then accented with Orly Gel FX White Tips to create asymmetrical French tips on both the base and free edge of the nail.
RELATED: Top Nail Shapes Shown Off on Instagram
 

View this post on Instagram

 
Singer and artist A$AP Rocky updated and thanked his fans with a heartfelt caption, paired with an artsy image, showing off his hand-painted nail art—let us know if you pin down the artist behind his fun man-icure.
 

View this post on Instagram

 
Hawaiian native and professional surfer Kelia Termini showed off pink almond-shaped tips, while lounging after a long day of catching waves (that's our guess).
 

View this post on Instagram

 
Los Angeles-based celebrity nail artist Kim Truong polished Kylie Jenner's sculpted square tips with two coats of baby blue Hydrangea by Bio Seaweed Gel.
 

View this post on Instagram

 
Brazil-based model Gizele Oliveira posed beachside, holding a shell, while showing off hand-painted negative-space stars over a black Leaf Gel base, courtesy of Miami-based artist Rose B—kudos to Oliveira for tagging her nail artist!
 

View this post on Instagram

 
 

View this post on Instagram

 
YouTube sensation, comedian and host Liza Koshy paired Balmain with a set of stellar hand-painted nail art, whose artist was not tagged or mentioned. Can we get a close up shot, please?
 

View this post on Instagram

 
It's safe to say that when DJ, HB FIT founder and global Adidas ambassador Hannah Bronfman reveals a freshly painted mani, we can thank sought-after celebrity nail artist Mei Kawajiri. We'll just be here waiting for a closer shot of the clean white-and-metallic mani.
—by Angelina Lewis