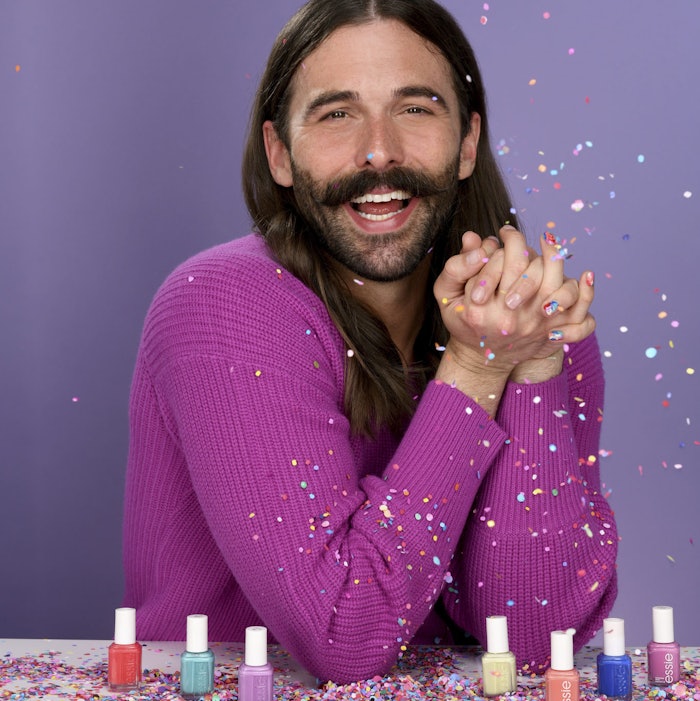 Essie knows how to kick off Pride Month! The brand announced their partnership with figure skater, TV personality and beauty enthusiast Jonathan Van Ness to encourage expression and inclusivity. Did we mention that he is their first non-female partner?
View this post on Instagram
The match-made-in-heaven partnership opted to create a colorful nail art look promoting individuality. On his Instagram post announcing the partnership, Van Ness writes, "For me, polish has always been a form of self-expression. Right now that means this mosaic rainbow mani moment. Wearing it proud!"
RELATED: Essie Launches 18 New Gel Couture Shades
View this post on Instagram
The brand's global lead educator, Rita Remark, created a rainbow mosaic nail art specially for JVN, including a full step-by-step of the look.
View this post on Instagram
Recreate the look:
Step 1
Prep the nail. Apply Smooth-E Base Coat.
Step 3
Apply Butler Please, In the Cab-ana, Come Here!, Chillato, Play Date, Geranium and Tart Deco one shade at a time, and use the polish brush to blend and marble the colors to create an abstract nail design on a few accent nails.
Step 4
Leave a few nails bare, or paint them with a single shade of polish. Let your design dry, and then finish with Gel.Setter Top Coat for a high-shine finish.
—by Angelina Lewis
[Images: Courtesy Instagram]