Editorial and celebrity nail tech Bernadette Thompson's iconic "money nails," which she created for rapper Lil' Kim in the mid-'90s, got another moment in the spotlight when a replica appeared in the recent Items: Is Fashion Modern? exhibit at the Museum of Modern Art in New York. The exhibit featured more than 100 fashion and beauty pieces considered to have made a strong impact on the world in the 20th and 21st centuries. The nail artist also created a collection of money nail appliqués for purchase at the museum store.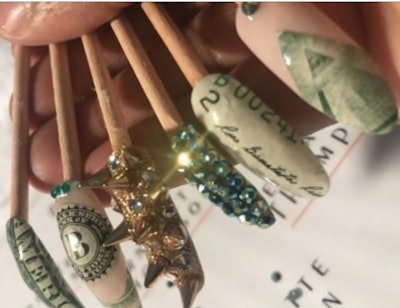 Thompson, whose nail art designs have graced the fingertips of countless A-listers over the years—including Missy Elliott, Mary J Blige, Lady Gaga and Taylor Swift—created Lil' Kim's original money nails look by cutting up real U.S. currency and applying the pieces on the nails. Thompson's technique, also featured in Vogue magazine, instantly put her talents in high demand, but it also landed her in hot water with the U.S. Treasury Department, who called her directly to issue a warning, explaining that defacing U.S. currency is a federal offense. "I had started getting requests for phone interviews every day, and I didn't realize I was on the phone with the U.S. Treasury Department; they let me go on and on about how I cut up the money before telling me who they were!" she laughs.
Now the Museum of Modern Art has made Thompson's money nails part of their permanent collection, and Thompson's nail appliqués are available to all on her website, bernadettethompson.com. "They're made out of 100-percent nail polish, and they look identical to real money," she says.
Thompson is also opening The B Nail Experience and Beauty Lounge later this month, a members-only luxury nail salon in Scarsdale, New York, her home base. With several levels of membership tiers to choose from, guests can receive a set number of services per month. Says Thompson, "My goal is to open locations everywhere around the country where members can go to get their nails done."
What do you think of these money nails? Let us know in the comments below!
-Lotus Abrams
[Photos courtesy of getty images/Patrick mcmullen; Martin Seck/The Museum of Modern Art; Armando Sanchez]
This article was first published in the April 2018 issue of NAILPRO