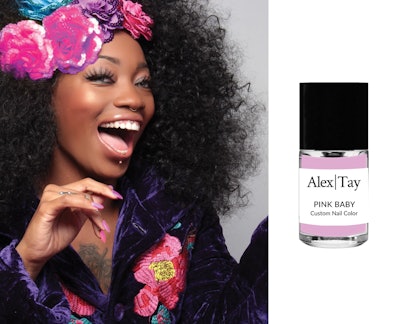 Ever dream of creating your own nail lacquer?  Your polish fantasies can now be a reality thanks to the new Alex | Tay app. Launched in November 2017, this innovative app allows users to create customized polish shades using their smartphones. "It's really easy: Snap a picture, tap a color and name your nail polish," says Paul Wolff, CEO and founder of Alex | Tay. "We take the color and generate the formula to support that color data, then we mix, fill and label each unique polish bottle." The custom nail color system gives both nail professionals and clients the chance to personalize their manicure services. Here, Wolff explains how this user-friendly app will help boost business in the salon.
NAILPRO: What makes Alex | Tay such a game-changer for the industry?
Paul Wolff: There is a large global market for nail polish users who are constantly online or on their smartphones. We felt that a market where color defined by others (i.e., fashion designers, cosmetic companies, etc.) was ripe for distribution through a customized technology, especially if it were simple, cost competitive and something that could be designed and received in under a week.
NP: How can this app benefit nail professionals?
PW: With the Alex | Tay platform, the salon owner and the individual technician have the ability to create their own colors and polish names. We can even create a cobranded label for salons—no minimum quantity or set-up fees required (think: your salon's own seasonal color collections!). Additionally, customers who use their salon's promo code to get their own polishes will generate additional revenue for that salon. It takes retail opportunities to the next level.
NP: Are there any colors that users cannot create on the app?
PW: Currently, the app supports approximately 15 million colors, the same digital colors supported on smartphones and computers. This year we hope to add pearlescent, holographic and glitter hues to increase available color choices to approximately 90 million polish options.
The Alex | Tay app is available for both iOS and Android. For more information, go to alexandtay.com.
This article was originally published in the February 2018 issue of NAILPRO.
[Images courtesy of Alex | Tay]