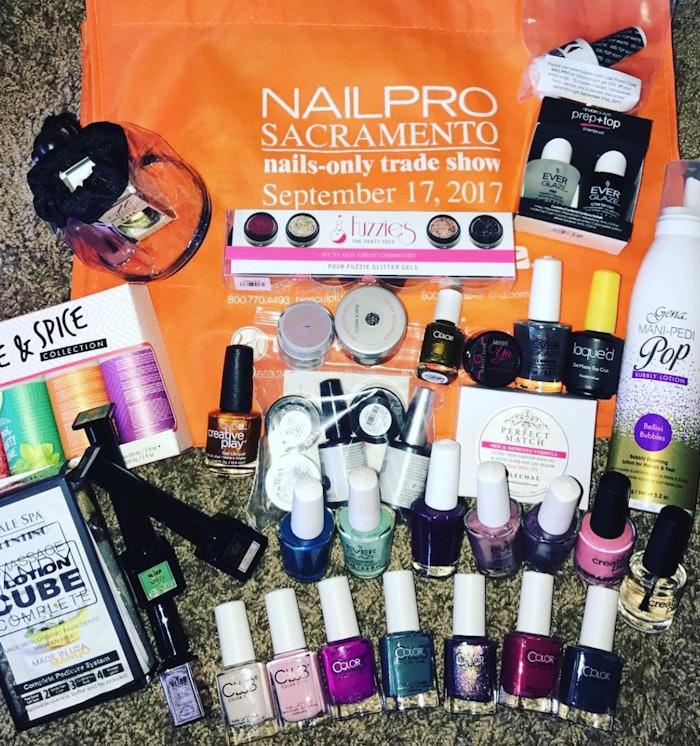 NAILPRO Sacramento is a time for free education, seeing and meeting nail friends, free swag (if you're early) and last but not least, shopping! At the 2017 show, there were more than 50 exhibitors to learn and purchase the newest products from. Here, we rounded up the top show hauls we spotted on Instagram.
1. First, take a look at what was inside our swag bags handed out to the first 500 attendees in line.
2. This swag bag recipient got herself some new Light Elegance Fuzzies.
3. Sounds like someone discovered stamping!
4. Trending spotting: Foils are back.
5. Young Nails' new line of gel paint called Mission Control sold out according to educator Sabella Snyder.
6. Attendees stocked up on embellishments…
7. . . . and pigment powders.
8. Some even got their hands on Gelish's Polygel system thanks to distributor Skyline Beauty Supply.
9. Bonus points for taking advantage of the show sales!
10. And a Valentino!
11. Nail art products galore.
12. New LED lamps.
For more information on NAILPRO Sacramento 2018, visit the website here.
Did you attended NAILPRO Sacramento 2017? Share your own hauls and best moments with us on Instagram using #NAILPRO.
-Sigourney Nuñez
[Images: Courtesy of Instagram]