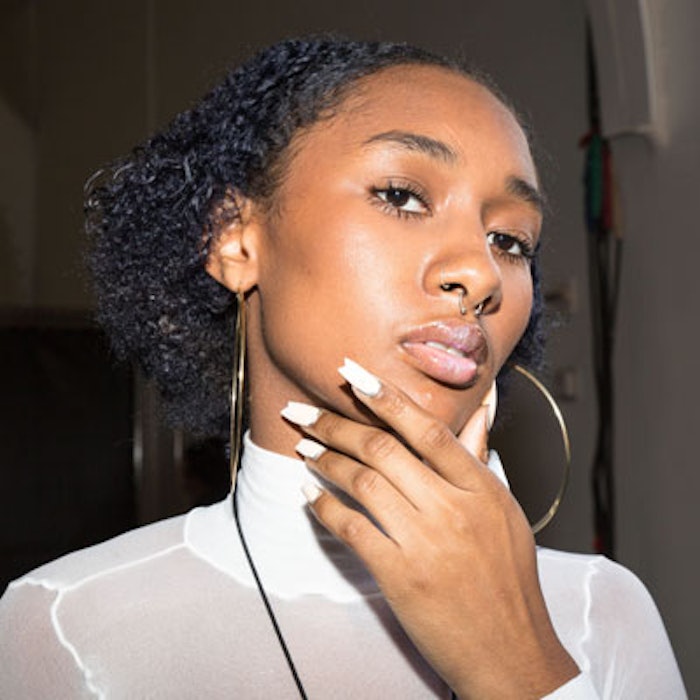 For the 5:31 Jérôme S/S 2017 show, designer Jerome LaMaar looked to the rising tides of our oceans to paint a multicultural portrait of the future, one in which race, religion and labels don't exist. The final result was a whimsical street wear collection that featured baroque pieces (if you're familiar with LaMaar's design aesthetic, he is a firm believer that "more is more") in a range of gorgeous hues, all of them inspired by the ocean's dynamic, yet yielding color palette. Pieces in the collection included acid-washed denim, an over-sized jacket with Swarovski crystals and frayed edges, hand-painted sun hats, camouflage pants and more.
To complement LaMaar's beach-ready looks, Dermelect lead nail artist Rose Velez-Miggins selected three neutral Dermelect colors (Opulence, Lazy Daze and Luminous) and, to convey the retro vibe of LaMaar's show, shaped each models nails to resemble a surfboard. To do this, Velez-Miggins cut a V into the tip of the nail.
While we can't see this particular nail shape catching on in real life, we love the creativity behind this design for Fashion Week. What do you think of the look? 
Image credit: Carissa Lancaster