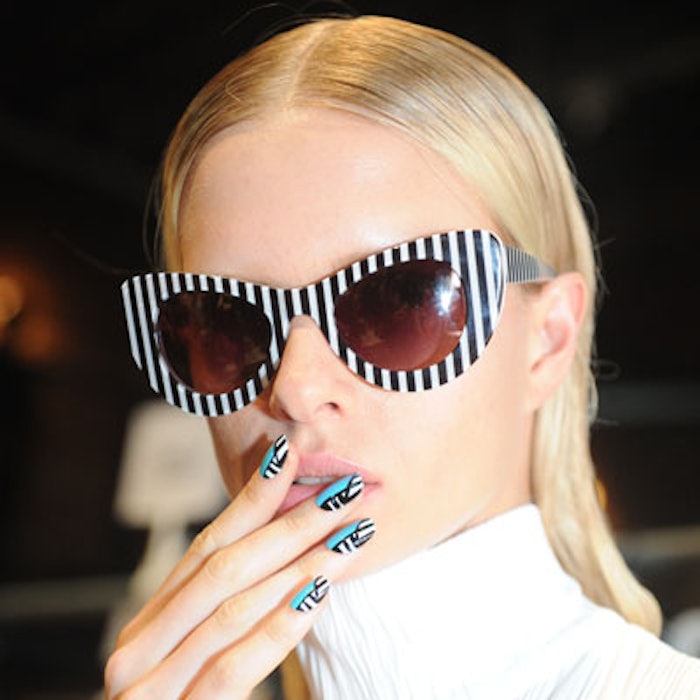 For his Spring/Summer 2017 show, Christian Siriano whisked attendees away to the Isle of Capri, an island in the Tyrrhenian Sea off the coast of Italy. Drawing inspiration from vintage photos of Jackie Onassis vacationing in Capri in the late '60s-70s, Siriano's collection featured elegant, neutral pieces for the sophisticated and well-traveled woman. To complement the 'island getaway' feel of the collection, manicurist Gina Edwards used KISS products to create a bold asymmetrical nail art look using turquoise, black and white. "The colors are vibrant and fun, perfect for the spring/summer season," says Edwards of the design. (See Edwards 'Capri Cool' look for Christian Siriano below.)
To create this look, Edwards used KISS imPRESS Manicure in Big Flirt along with other KISS products, all of which are featured below.
Products Used:
Get the Look:
First, select the correct size imPRESS Manicure in Big Flirt then peel off and press-on.
Place KISS Design Perfection diagonally across the nail. (On the left hand, the design will be on the left; on the right hand, the design will be on the right.)
Paint a thin black line along the inside V of the Design Perfection decal with KISS Nail Artist Paint in Gala.
Using Gala, paint vertical stripes along the tip of the nail, alternating between black and white.
On the side of the nail, paint horizontal stripes, again alternating between black and white.
Seal the design with KISS Gel Strong top coat.
See more behind-the-scenes photos below.
Images courtesy of Bratskeir & Company; Photography by Diane Bondareff