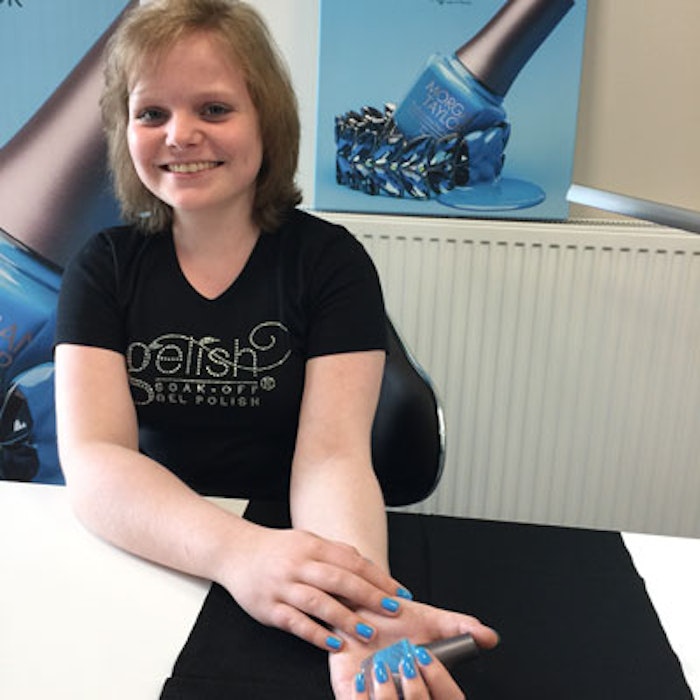 Fran, 15 years old, had but one dream to fulfill when she was diagnosed with leukemia: to own a nail salon/studio. To make her dream a reality, several companies and organizations came together to give Fran the gift of a lifetime. Keep reading to see what this future nail artist received.

Morgan Taylor Makes a Wish Come True for a Patient
At 15 years old, Fran was diagnosed with leukemia. Her wish in life is to own her own nail salon/studio, so to make this happen ASAP Nails and Beauty for Bruges partnered with the Make a Wish Foundation to donate chairs, table lamps and other salon accessories, as well as a voucher to train at ASAP Nails. To make her gift extra memorable, Danny Haile, CEO, and Sophie Deliverer, Manager, of Morgan Taylor, Fran's favorite lacquer brand, were contacted to get involved with the campaign and after several phone calls and emails, a plan to produce Fran's very own polish had been created and put into action.
The polish is a vibrant light blue called "Fran's Blue Wishes" and is available in limited amounts on ASAP Nails and Morgan Taylor Belgium. All proceeds of polish purchases will be donated to the Make a Wish Foundation. To view the polish creation process from concept to delivery, watch the video below.
We love that these companies came together for Fran; what do you think?
Images courtesy of Nail Harmony.