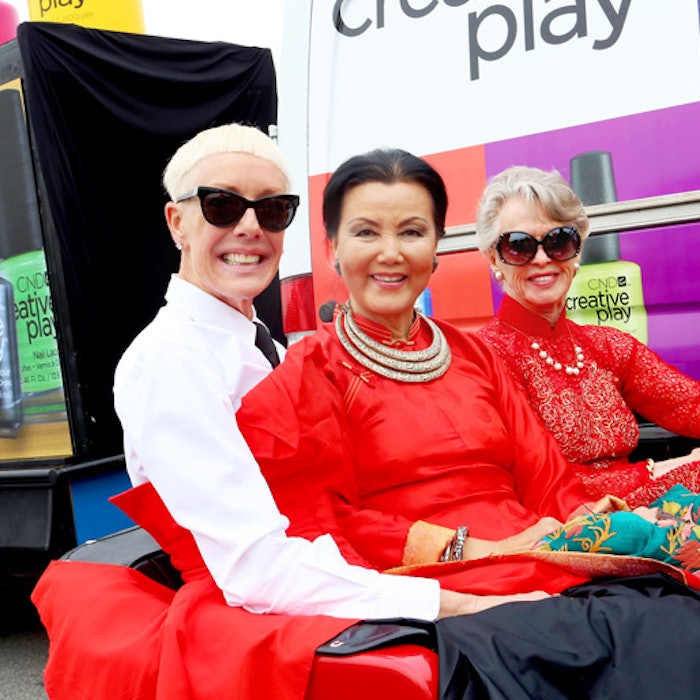 On Saturday, February 13th, professional nail polish brand
CND
participated in the
Tet Parade and Festival
, an annual celebration of the Vietnamese New Year that takes place in Orange County, California. CND co-founder and style director Jan Arnold collaborated with actress and humanitarian Tippi Hedren—considered the godmother of the Vietnamese-American nail industry—and Vietnamese-American actress and philanthropist Kieu Chinh, to honor the Vietnamese nail professionals that have been so pivotal to the nail industry.
Throughout the Little Saigon Tet Parade on Saturday morning, the dynamic trio sat in a 1939 Lincoln Zephyr, which was followed by a CND-branded van and float. "It was such an honor to have Tippi Hedren and Kieu Chinh join us for this important celebration," said Arnold. "These two women represent beauty, philanthropy and strength, and are an inspiration to both CND and our fans."
Several CND Education Ambassadors and over 50 students from Advance Beauty College (ABC) walked alongside the vehicles, while distributing miniature samples of CND's brand new CREATIVE PLAY nail lacquer. The Tet Festival served as a soft debut of the new, traditional polish line, which will officially launch this April. The collection features dozens of fun, vibrant colors and has been formulated as an easy-to-change, "mood of the moment" lacquer, created for women who want to regularly switch up their polish. Festival attendees who stopped by the CND booth had the chance to sneak a peek at the vivid, heavily pigmented hues; take photo booth-style GIFs with a slew of fun props; and chat with Arnold, Hedren and Chinh.
The Tet Festival, now in its 35th year, is organized by the Union of Vietnamese Student Associations in Southern California (UVSA), a registered nonprofit and non-partisan community-based organization. These youth volunteers organized the three-day Tet event, which immersed over 60,000 visitors in an array of live entertainment and cultural displays. Throughout the festival's history, more than $1 million in proceeds have been awarded to community nonprofits.
We were excited by the chance to head down to the Orange County Fair & Event Center to meet the CND team and speak with Arnold about the brand's decision to participate in the Tet Festival for the first time. "This was our way of reaching out to thank the Vietnamese community for their contribution to our industry, and for making nail services so accessible," Arnold told us. "This was an incredibly important celebration, but was also about showing our thanks and having fun!"