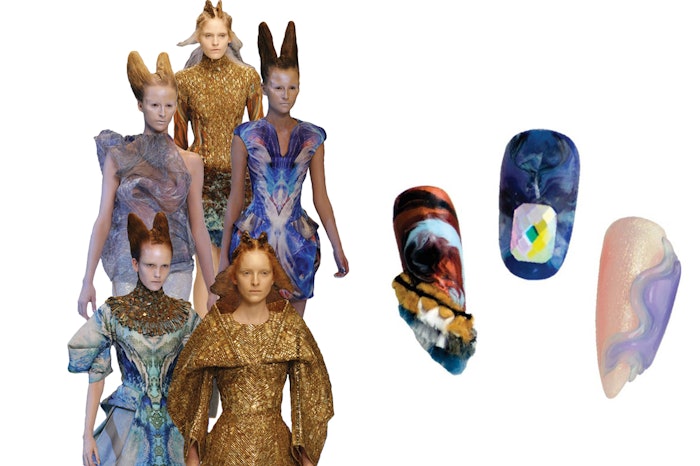 The year 2020 was a strange one indeed. With the pandemic changing the format of everyday life, it's no shock that fashion shows did an about-face as well. So, rather than pulling trends from a Spring 2021 season that never quite was, we've decided to go back in the catwalk annals and spotlight the shows that left an indelible mark on us—because some things never go out of style.
In Alexander McQueen's Spring 2010 show, that sentiment was particularly true. On this runway, we witnessed the dawn of digitally printed kaleidoscopic patterns that would go on to inspire a million copies, permeating both high- and low-end fashion to this very day—think: bathing suits, T-shirts and even makeup pouches. McQueen's aforementioned prints, along with beaded wares molded into stiff armor and swirling iridescent one-shoulder clouds of fabric, were meant to evoke the evolution of primordial sea creatures into humans—and our eventual demise back to the sea as the ice caps melt. Though apocalyptic in theme, the collection lodged itself in fashion gazers' memories for its future-forward beauty—and should certainly serve as a wellspring for nail artists seeking inspiration.
Tasked with reviving this decade-old collection as nail art, Las Vegas-based artist Arielle Lailani Mosses (@ariellemosses) concentrated on the dazzling complexity of kaleidoscopes and mimicked this idea with abstract marbling. Three-dimensional additions, like embroidery thread and curvy gel sculptures, capture the structural genius seen in McQueen's creations.
Las Vegas-based freelance editorial nail artist Arielle Lailani Mosses has worked backstage at New York Fashion Week, as a celebrity artist and as an assistant to NYC's most reputable lead nail artists. "I like to stay experimental," she says, citing her specialties as playing with color theory and creating custom colors.