Designers cast a wide net this season, layering airy netting of all shapes and sizes over, under and between a wide array of fabrics. At Salvatore Ferragamo, a webbed boho tank unraveled into bead- dotted fringe, adding breezy beauty to a plain-Jane white tank and khaki skirt combo. The fishnet at Altuzarra took on a literal quality: Hooked with dangling seashells, the netted sheath appeared to have been cast off the side of a fishing rig. The large- scale links of a woven dress at Sonia Rykiel could also live seaside, but more as a chic post-dip cover-up. Definitely not doing time near a body of water: Calcaterra's sheer tulle and mesh dress, where artfully arranged tears of fringe cover just enough to not be considered risqué. Netting isn't anything new for nail art, but changing its scale, incorporating it into unique patterns and pairing it with other mediums, like Mylar glitter—as guest artist Shirley Cheng does here— will hook, line and sink your mani-loving clients.
RELATED: Guest Artist Alec Hinz Creates Wild-West Runway-Inspired Tips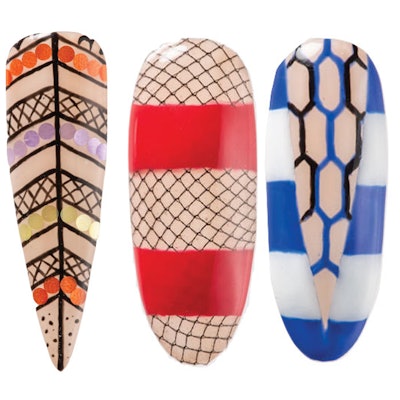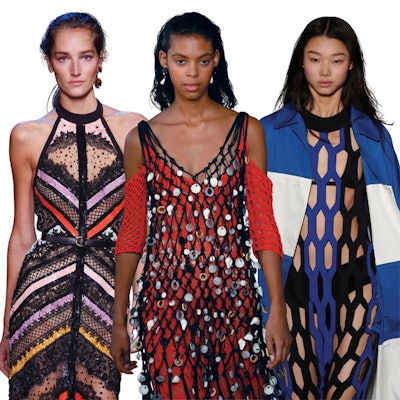 RELATED: Nail Art Inspired by the Glitter and Sparkle on the Runway
Guest Artist: Shirley Cheng is a New York-based nail artist and educator.
–by Karie L. Frost
This story first appeared in the May issue of Nailpro magazine. To receive the magazine, click here to subscribe.
[Images: Courtesy of Armando Sanchez; Getty Images]