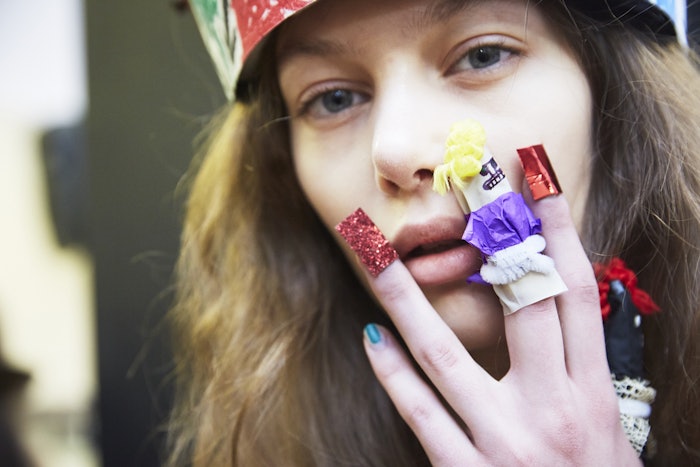 Vivienne Westwood's Fall 2017 ready-to-wear collection titled "Ecotricity" encouraged its audience to make the switch to renewable energy sources, including swapping clothes with men for androgynous dressing.  Working with the designer, Marian Newman for CND created nail looks that echoed this idea.
"Vivienne Westwood is a political activist who uses her beliefs as themes within her fashion shows and collections," said Newman in a press release. "This translated to the nails with the messages of 'recycle' and 'eco and lies.' The nails for the runway featured a punk viridian veil of darkened green and a boudoir berry tone filled with lies.
The CND nail team of seven also used recycled fabric from the collection and created finger puppets as a symbol of protection and unity. One of the featured styles was a "Back-to-Front' French manicure, applied to the underside of fingertips, portraying the idea that everything is not what is seems.
What do you think of these statement-making nails from Vivienne Westwood? Let us know in the comments below, and then read our Fashion Week coverage.