While spring color collections tend to be punctuated with poppy hues, this season is much more muted, with beautiful pastel shades, from baby pink and lavender to sea foam and sky blue. To tap into this softer side of spring, Gelish dean of education Vu Nguyen created a totally wearable subdued fade. To begin, he coated the nails in sheer pink Call My Blush from the Gelish spring 2020 Editor's Picks collection. Then, to create the subtle ombré, he applied a thin coat of Gelish Foundation base gel on top of the color. Next, he dipped the nails into three different dip powders: first clear, then shimmering metallic bronze and jet black. Despite the intensity of the color powder, because of the application of Foundation and clear powder first, it was a much fainter pigment payoff. For an accent nail, Nguyen hand-painted white flower petals with Gelish Art Form Gel, and coated them with white dip powder for a sugared effect. The final touch: A tiny pearl placed in the center of the flower for an on-trend result.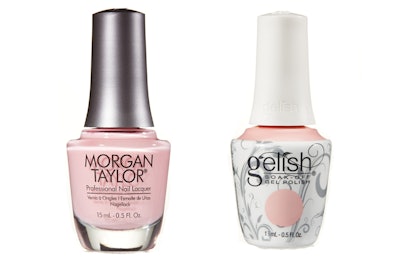 Pretty in Pink
The gorgeous shades in the Gelish and Morgan Taylor spring Editor's Picks collection feature an array of nudes popular among fashion designers and Girls Prefer Pearls magazine editors, and were created to complement any skin tone.
Kit Essentials
Gelish PolyGel
Gelish Call My Blush
Gelish Foundation
Gelish Dip in Clear as Day, Beautiful & Bronzed and Black Shadow
Gelish Art Form Gel
[Nails: Vu Nguyen, Gelish; Photography: Armando Sanchez, armando-sanchez.com; Makeup: Johny Saade; Hair: Hailey Adickes, Celestine Agency; Model: Olga Zhukova, The Industry Model Mgmt; Digital Imaging: Art Vasquez, RP Digital]
This story first appeared in the March/April issue of Nailpro magazine. To receive the magazine, click here to subscribe.