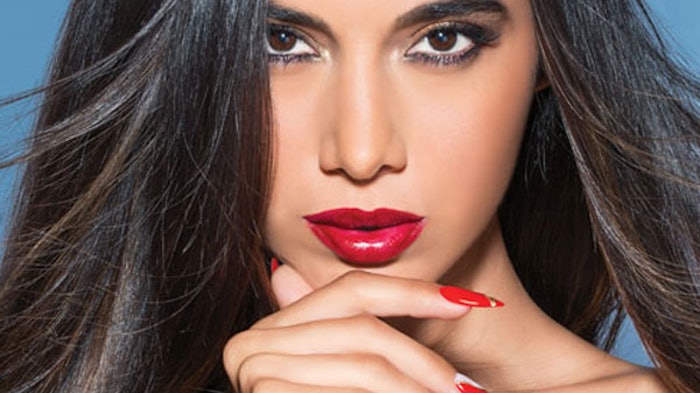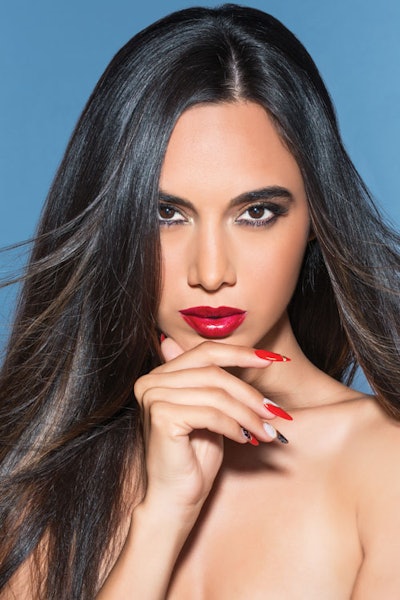 The iconic red manicure was born more than 85 years ago, yet it remains as relevant as ever.
Nail trends come and go, but one staple remains: the red manicure. Hitting the mainstream during the Great Depression, Revlon Cherries in the Snow was the first opaque red nail polish. Peddled door to door, it was an instant success with women whose polish choices were previously limited to neutral, sheer shades. It wasn't long before glamorous marketing campaigns and Technicolor movies starring red-tipped leading ladies solidified the glossy red mani as an endearing beauty standard.
Today, red tips can be many things. With countless hues and endless finishes, there's a red polish (or gel, dip or acrylic!) for everyone. Unsure how to help your clients navigate the choices? Keep reading to learn everything you need to know—from differentiating red tones to surefire red nail art ideas—to help your clients rock a red manicure with confidence.
It's Never Just Red
Fire engine, crimson, candy apple, brick—red is rarely just red. There are so many reds, in fact, that the number of red polish choices can be overwhelming, especially for clients. To simplify the selection, divide red polishes into two categories: warm and cool. Warm reds are yellow- based and are often described as tomato reds, while cool-toned reds are blue-based (or berry reds). This is an important distinction to make, as you want to find the hue that's most flattering to the client's undertone.
To determine skin's undertone, Jan Arnold, cofounder and creative director for CND, recommends looking at the inside of the wrist against gold or silver fabric or jewelry. "If the skin looks best against the cooler silver, choose a blue-based red to best complement the skin tone. If the skin looks better against the warmer tone of gold, choose a yellow-based shade," she says. What if the skin looks equally good against both gold and silver? The skin is a neutral tone, "and you can choose any red you love!" says Arnold. Once you've selected a complementary red, lighter or darker versions of that shade will make great options for every season, she says.
RELATED: NAILPRO's Creating the October 2019 Cover
After tone and intensity, the final red differentiator is finish. From glitters and shimmers to metallics and jellies, there are myriad options to choose from. Fortunately, the days when cream finishes were de rigueur for the office and glitter was reserved for special occasions or weekends are long gone, so encourage clients to go for their favorite red in any finish, anytime!
Flawless Application & Removal
Red nail polish is one of the most challenging to apply. "There's a reason why judges have competitors use it to polish—it shows all of the imperfections!" says Ugly Duckling director of education and master educator Christina Cronk, aka Chrystacle.
Cronk's best tip for applying red polish to the natural nail is to use a good base coat. "The polish slightly sticks to the base and doesn't run away as easily," she says. Also, be sure to remove the polish completely from one side of your brush. This will help prevent extra polish from flooding the sidewalls. Start in the middle of the nail and use the brush to gently nudge the polish to the cuticle, then pull it down to the natural free edge. This same technique applies to enhancements, however, you may need more polish on the brush if polishing longer extensions. If your client is a wiggler, it may help to "anchor" her hands against your nail station to discourage sudden moves. Celebrity manicurist Michelle Saunders double top coats her red manis for a smoother, glossier finish.
Like any highly pigmented polish, red lacquers can stain. When removing red, avoid "scrubbing" motions with your remover-soaked cotton pad. This will unnecessarily deposit red polish on the skin surrounding the nail, which can be difficult to remove (especially if the client has dry skin). Instead, lay the cotton pad flat against the nail and give the solvent a moment to work. Then use gentle pressure to glide the pad down the nail and straight off the free edge. A small cleanup brush and pure acetone can take care of any remaining wayward red.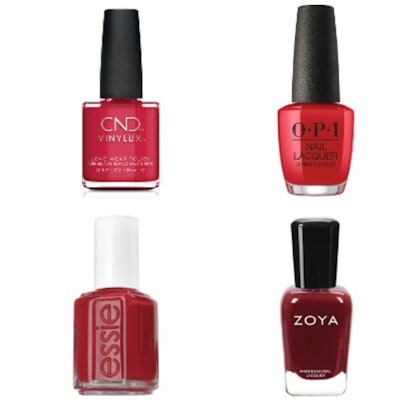 Supreme Reds
What does a best-selling red look like? Check out these perennial winners.
CND Wildfire: First available in 2000, CND Wildfire is a full-coverage, bright, neutral cream that has an extra drop of orange in it to pump up the vibrancy. "This particular red is clean yet dynamic and extravagant and looks great on every skin tone," says Jan Arnold, cofounder and style director of CND.
Essie Forever Yummy: Aptly named, Forever Yummy debuted as Forever Young in Essie's fall 2008 Color Is My Obsession collection. It's a creamy, deep red with a high-gloss finish.
RELATED: Fall Fashion Inspires 3 Nail Looks in Pantone Institute's Color Report Hues
OPI Big Apple Red: This red became an instant fan favorite when it launched as part of the 2000 New York City collection. "It's bright and shiny and gives you the confidence to take on the world!" says Sigourney Nuñez, OPI North America education manager.
Zoya Dakota: Introduced in fall 2008, this dramatic dark cherry cream has a very subtle hint of brown. "It's a beautiful, classic deep red that works for all skin types and is a very sophisticated shade," says Rebecca Isa, Zoya creative director. "It's perfect when you want a more dramatic red look."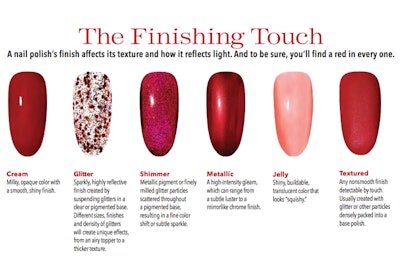 Amp It Up
A red manicure is far from subtle, but that doesn't mean you can't be creative. Keep the focus on red but amplify the results with these three ideas for monochrome red nail art.
RELATED: Create a Marble-ous Nail Design with Christrio Nail Ink
Reverse French: This bold take on a classic not only replaces the traditional white tip with red, it flips the look completely. Sigourney Nuñez, North American education manager for OPI, likes to paint the nail in a light or nude shade, and then precisely outlines the cuff of the cuticle area with red polish. "Be sure the line under the cuticle is crisp so the fingertips don't look bruised," she says.
Red Skittles: "Skittle nails" are created by painting each nail a different color, and sticking with one color family makes the look more chic and less rainbow bright. Michelle Saunders prefers to go with reds. "I love a different shade on each nail," she says. "It's super trendy right now."
Tone-on-Tone Crystals: For a red look that turns heads, Jan Arnold suggests red nails completely encrusted with red crystals. Her favorite combo? CND Wildfire with Swarovski flat-back crystals in Ruby Red. "You'll always steal the show with this magnificent mani!" she says.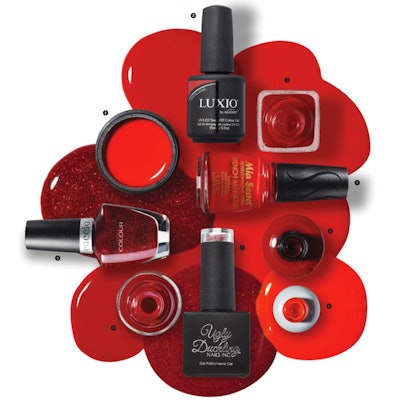 1. Light Elegance Hot Tamale
2. Akzéntz Luxio Tantalizing
3. LeChat Dare to Wear Cherry Cosmo
4. Mia Secret Rojo Ave
5. Cuccio Colour Chakra
6. Kiara Sky I Dream of Paredise
7. Ugly Duckling 164
8. OPI Red Heads Ahead
9. Orly GelFX Muy Caliente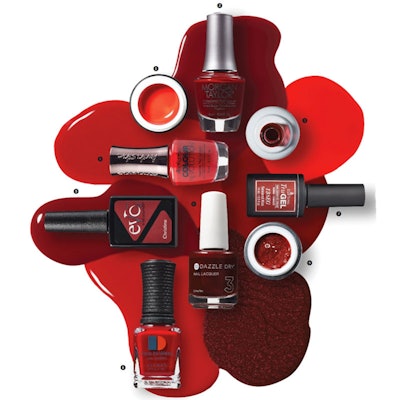 1. LCN Color Gel Red Lips lcnusa.com
2. Morgan Taylor From Paris With Love morgantaylorlaquer.com
3. Kiara Sky Gel Polish Bae-Berry kiarasky.com
4. Artistic Colour Revolution Artistic Life artisticnaildesign.com
5. Bio Sculpture Evo2 Christina biosculpturegel.com
6. Dazzle Dry Seduction dazzledry.com
7. EzFlow TruGel Smeared Kiss ezflow.com
8. LeChat Dare to Wear Lover's Embrace lechatnails.com
9. Akzéntz Options Glitter Cherry Red akzentz.com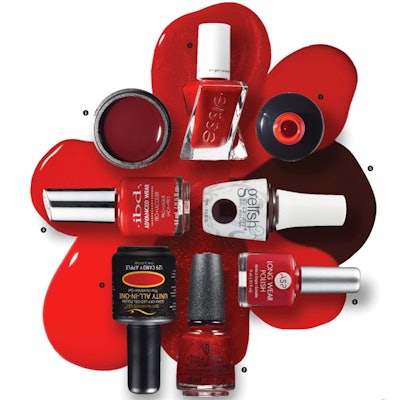 1. Light Elegance Fast Lane
2. Essie Gel Couture Scarlet Starlet
3. LCN Recolution Chinatown
4. ibd Advanced Wear Bing Cherries
5. Gelish Black Cherry Berry
6. Bio Seaweed Gel Candy Apple
7. China Glaze Ruby Pumps 2
8. ASP Long Wear Polish Reveal Everything Red
–by Leslie Henry
[Images: Courtesy of Armando Sanchez; Cory Sorensen; Instagram; iStock; manufacturers]
This story first appeared in the October issue of Nailpro magazine. To receive the magazine, click here to subscribe.